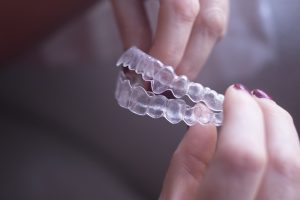 For many people who have crooked teeth, the condition can be visibly obvious every time they smile. Because of this, they may expect that correcting the problem also has to be highly obvious, especially if they expect to need metal braces to address it. However, many people can benefit from straightening crooked teeth with more discreet Invisalign® clear aligners, which can correct several different types of malocclusion (tooth misalignment) in a more comfortable and convenient manner than you might expect.
1. Keeping treatment highly discreet
The discreet nature of clear aligners is one of the more notable aspects of orthodontic treatment with Invisalign®. Unlike traditional metal braces, which are designed to utilize brackets and wires to gently straighten teeth, clear aligners are made from virtually invisible, BPA-free acrylic. They're also designed to conform precisely to the size and shape of your teeth, which makes them almost completely undetectable when placed over them. Because of this, Invisalign® can allow you to straighten crooked teeth in a highly discreet manner.
2. Addressing multiple types of malocclusion
For some severe cases of malocclusion, traditional orthodontic braces may still be required to correct tooth alignment. However, the precise, digital design method used to create Invisalign® allows them to effectively correct malocclusion of various types. This can sometimes include seemingly extensive tooth misalignment, or cases of relapse (teeth becoming crooked again after previous orthodontic treatment). Their versatility makes Invisalign® clear aligners an ideal for solution for increasingly more patients who want a discreet and comfortable solution for straightening their crooked teeth.
3. Making good dental care easier
The appearance of your clear aligners can be a significant advantage to Invisalign®, and their ability to address several types of malocclusion means there's a good chance you're a candidate for them. Yet, one of their more beneficial aspects is the fact that you can temporarily remove your aligners each day throughout the course of your treatment. When you need to brush and floss your teeth, or it's time to eat your favorite meals, you can remove your aligners to avoid damaging them or getting food stuck in hard-to-reach places. By making it easier to keep your teeth clean each day, Invisalign® can help you take better care of your oral health and reduce your risks of developing concerns like tooth decay or gum disease.
Learn more about treatment with Invisalign®
With Invisalign® clear aligners, you can improve several aspects of your orthodontic treatment. To learn more, schedule a consultation by calling Modern Smile in North Hollywood, CA, today at 818-763-9353. We also proudly serve patients who live in Burbank, Toluca Lake, and all surrounding communities.