Teeth Whitening
Brightening Your Smile Professionally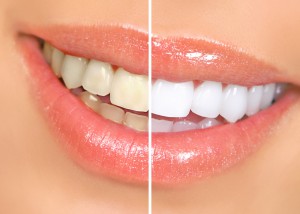 Teeth stains are one of the few dental issues that can occur even when you take consistently excellent care of your teeth. Fortunately, they don't pose an immediate threat to your oral health, and in most cases, they can be successfully erased with professional teeth-whitening. Using a potent but safe bleaching solution, cosmetic whitening gently breaks up the staining deposits on the surfaces of your teeth and oxygenates the main tooth structure. This not only erases stains, but also brightens teeth that may have become dull over the years. For your optimal convenience, we offer a choice of at-home or in-office treatments at our North Hollywood, CA, dentist's office, each designed to safely and effectively brighten your smile with minimal impact on your busy schedule.
At-Home or In-Office
At-home teeth-whitening treatment is a personal kit that you can take home, allowing you to apply the professional solution from the comfort of home. The kit consists of custom-designed trays that fit snugly over your teeth and allow you to ensure even and uniform application of the solution. Within two weeks, you can enjoy a brighter, stain-free smile, and you can keep the trays to apply more solution in the future for minor cosmetic touchups. For quicker results, we may recommend in-office treatment with the advanced Zoom! system. After applying the solution to the surfaces of your teeth, your dentist can stimulate it with a special light to accelerate the stain-erasing process. In just a single visit, you can enjoy a brighter and more confident smile that's free of embarrassing stains.
A Brighter, More Confident Smile with Whitening
Professional teeth-whitening gives you a highly effective and convenient way to erase pesky teeth stains and restore your smile's confidence. To learn more, schedule a consultation with your North Hollywood, CA, cosmetic dentist by calling Modern Smiles today at 818-763-9353. We also proudly serve patients who live in Burbank, Toluca Lake, and all surrounding communities.