Dental Implants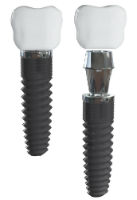 Implanted Support for Replacement Teeth
Among the many options that you have these days for replacing lost teeth, dental implants are the most versatile. Whether you've lost one, several, or all of your teeth, your North Hollywood implant dentist can suggest supporting your custom-made crown, bridge, or denture on one or more dental implant posts. While your prosthesis offers highly lifelike and reliable replacements for the visible parts of your teeth, the implant posts restore the vital functions of your teeth roots, which include supporting those visible portions. It also includes providing a more stable foundation for the rest of your smile by stimulating a healthy nutrient flow to your jawbone, lowering your risks of losing more teeth to an increasingly weaker jawbone.
What Dental Implants Offer
Dental implants posts are made from highly biocompatible titanium. When the posts are strategically placed in your jawbone, the bone heals to their surfaces because they're organically compatible. This means your posts become permanent parts of your jawbone's anatomy, similar to your remaining natural teeth roots. Thanks to our extensive experience in oral surgery and complex reconstructive treatment, we can complete every aspect of your dental implant placement and restoration in-office. The most immediate benefit of dental implants is the unmatched comfort and support they give your replacement teeth, though other advantages also include:
No need for clasps and adhesives
No need to alter healthy tooth structure to support a bridge
No shifting or slipping of your dental bridge or denture
More natural feel and function for your prosthesis
Improved long-term oral health
Stronger, more supportive jawbone structure
And more
Find Out if You Qualify for Implants
Dental implants can be an optimal solution for most tooth loss patients, and their benefits are longer-lasting than more traditional dental prostheses. To learn more, schedule a consultation with your North Hollywood, CA, implant dentist by calling Modern Smiles today at 818-763-9353. We also proudly serve patients who live in Burbank, Toluca Lake, and all surrounding communities.