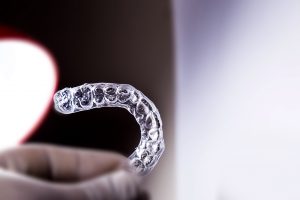 People who have crooked teeth to straighten often have more to deal with than just the obvious problem. For example, the most obvious concern might be their smile's appearance, yet with traditional orthodontic braces, they might not feel confident that concern is properly addressed. The many different consequences of crooked teeth make it especially important to address the problem as soon as possible, which is a big reason why can offer more discreet orthodontic treatment with the help of Invisalign® clear aligners.
Their ability to remain almost invisible
Invisalign® clear aligners boast several advantages over traditional orthodontic braces, but their nearly invisible construction is one of the more immediately obvious ones. Many older teen and adult patients hesitate or procrastinate to correct crooked teeth out of fear of potential embarrassment. However, with Invisalign®, that's no longer a concern, as the clear aligners are designed to remain virtually invisible and allow your natural teeth to show through them. With greater confidence that their treatment will remain discreet, more patients can be encouraged to straighten their crooked teeth as soon as possible.
The enhanced comfort of the aligners
Clear aligners are crafted from clear acrylic and are designed to fit over your upper and lower teeth comfortably. Because they aren't bonded to your teeth or consist of metal brackets and wires, Invisalign® aligners can provide a much higher level of comfort throughout the course of your treatment. This comfort not only includes the feel of your aligners compared to the feel of metal braces, but also the implications of wearing clear aligners that can be temporarily removed at certain points throughout the day to minimize your treatment's impact on your daily life.
The convenience in your daily routines
The appearance of metal braces is only one concern that patients may have about traditional orthodontic treatment. Another may be the concern about how their treatment will impact their daily lives, what they'll have to chance to accommodate it, and how long they'll have to endure the change. Invisalign® aligners can significantly streamline the process of straightening crooked teeth to make it more convenient. For example, you can remove the aligners to brush and floss your teeth so you won't need specialized dental hygiene tools to do so.
Learn how you can benefit from Invisalign®
Their more discreet appearance is important, but there are many other significant benefits that Invisalign® aligners can provide. To learn more, schedule a consultation by calling Modern Smile in North Hollywood, CA, today at 818-763-9353. We also proudly serve patients who live in Burbank, Toluca Lake, and all surrounding communities.