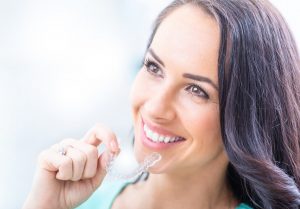 The level of malocclusion (or tooth misalignment) that affects your smile isn't the same for everyone. Yet, traditionally, dealing with crooked teeth has often required the same treatment – orthodontic braces – regardless of severity or the specific misalignment of teeth. Today, however, you have a wider variety of options for straightening crooked teeth and improving your smile and oral health. For example, many people who have crooked teeth are able to straighten them using a series of Invisalign® clear aligners rather than a system of brackets and wires.
How clear aligners straighten crooked teeth
Invisalign® clear aligners are designed to help streamline orthodontic treatment for many older teens and adult patients. The goal of the aligners is similar to the goals of orthodontic braces; to gradually and safely realign teeth that are crooked so your bite can function properly again. The difference, however, is that Invisalign® doesn't require brackets bonded to your teeth, nor does it require an arch wire to provide the pressure necessary to realign your teeth. Instead, Invisalign® is a system of aligners that progressively guide crooked teeth into straighter positions. Each successive aligner is designed to pick up where the previous aligner left off in guiding your teeth through their appropriate paths of movement.
The benefits of clear, comfortable aligners
One of the most notable advantages to using clear aligners instead of braces is the more natural and discreet appearance they provide. Without needing brackets or wires, clear aligners can remain more comfortable when placed over your teeth. There are no metal parts to potentially jut against or scrape your soft oral tissues, or to work around when you eat or brush and floss your teeth. In addition, Invisalign® aligners are made from clear, virtually invisible acrylic, making them nearly undetectable throughout the entire course of your orthodontic treatment.
The advantages of digital treatment design
The Invisalign® treatment process is meant to make orthodontic treatment simpler and more streamlined for many patients. Yet, the designing and creation of your Invisalign® aligners is a complex process involving the use of innovative, highly precise digital imaging technology. For Invisalign® aligners to accomplish their purpose, every aligner has to guide your crooked teeth through a specific phase of their movement. This takes carefully analyzing and assessing your malocclusion to determine the safest and most efficient path of movement, as well as digital design capabilities to ensure that each aligner accomplishes its purpose precisely.
Enjoy more discreet orthodontics with Invisalign®
Orthodontic treatment doesn't have to be complicated. With the help of Invisalign® clear aligners, you can enjoy a straighter smile much more comfortably and discreetly. For more information, schedule a consultation by calling Modern Smile in North Hollywood, CA, today at 818-763-9353. We also proudly serve patients who live in Burbank, Toluca Lake, and all surrounding communities.