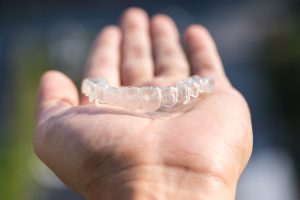 Do you have teeth that crowd or overlap one another? Do you have crooked or uneven portions of your smile? Not only will these issues impact your smile's appearance in negative ways, but they can also lead to trouble with overall oral health. In order to help our North Hollywood, CA, patients enjoy better alignment, we may recommend clear Invisalign® aligners.
What Makes Misalignment an Oral Health Risk?
Uneven teeth make thorough brushing and flossing difficult, which could in turn lead to a greater risk of tooth decay and gum disease, as food particles remain trapped between teeth to be consumed by harmful oral bacteria. In addition, poor alignment has been known to upset bite balance and also place pressure on the jaw joints, increasing the risk of TMJ disorder and bruxism, two jaw joint disorders linked to headache and migraines, jaw pain, and toothaches and tooth sensitivity as a result of damaged teeth. By addressing your alignment, you help improve your overall health and protect your smile form serious complications.
Creating Clear Aligners
Treatment involves wearing a series of clear aligners every day. The aligners themselves will be created from a clear plastic material. To craft them, we will take detailed impression and image of your smile, using the information we gather to fabricate a series of aligners. A set us then worn for 20 to 23 hours a day over a period of two weeks. At this point, you will upgrade to the next set in the series as your smile is gradually and gently corrected.
The Benefits of Invisalign®
First, the aligners will be custom-made so they fit comfortably and help you avoid the gum and cheek irritation often encountered with metal orthodontics. They aligners will be barely noticeable as well. Overall treatment time is much shorter than is required for braces, with optimal results often available in as little as one year. You can also remove the aligners before you eat, so you don't need to avoid certain foods that could become trapped in orthodontics or damage them. You can also take them out before you brush and floss, which makes caring for your smile during treatment much simpler and reduces the risk of teeth stains, cavities, and gum disease. If you would like to see if these are right for you, then contact our team for a consultation. We will assess the cause and extent of your misalignment and decide if clear braces are the right choice for you.
Ready to Try Clear Braces?
Our team is ready to help you enjoy a more even smile with clear orthodontics. For more information, schedule a consultation by calling Modern Smiles in North Hollywood, CA, today at 818-763-9353. We also proudly serve patients who live in Burbank, Toluca Lake, and all surrounding communities.