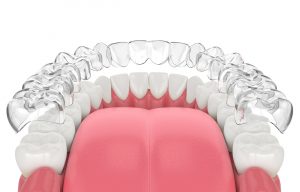 If you have teeth that are crooked or overlap one another, then your poor alignment could not only impact your smile's beauty, but your overall oral health as well. In today's blog, your Burbank, CA, dentist talks about correcting uneven teeth with a series of clear and comfortable aligners. While we may be closed to everything outside of emergency dentistry for the moment, we can't wait to help you obtain the smile of your dreams just as soon as possible.
The Long-Term Impacts of an Uneven Smile
Misalignment is not just a cosmetic issue. When our teeth are crooked, crowded, or overlapping one another, this provides hiding places for food to become trapped. Even if you brush and floss, you may not be able to remove all of these particles, which then increases the risk of tooth decay and gum disease as harmful bacteria break down these particles. For others, poor alignment could place stress on the jaw joint and upset bite balance, which increases the likelihood of painful jaw joint issues like TMJ disorder or even bruxism (chronic teeth grinding). For some, these disorders could actually lead to worn down, chipped, or cracked teeth, as well as cavities and infected teeth.
How Does Invisalign® Work?
With Invisalign®, we don't rely on metal brackets and arch wires to move the teeth into optimal positions. Instead, we will create a series of clear aligners using advanced technology. The aligners will not only fit comfortably, but provide a barely noticeable solution to misalignment for teens and adults. Each set is worn for about 20 to 22 hours a day, and a new set is worn every two weeks. For some, optimal results only take about a year to obtain.
Will Clear Aligners Be Right for Me?
If you have uneven teeth, as soon as our doors open, we can examine your smile to see if you need treatment and if clear aligners are the best choice for your smile. If so, we can help with the Invisalign® system. Until then, our team is ready to offer emergency treatment to address damaged or aching teeth, protecting your oral health until we can begin offering preventive and cosmetic treatments once again. If you have any questions, then please contact our team today.
Do You Have Questions About Correcting Misalignment?
With a clear and comfortable alternative to metal braces, we want to help you enjoy a straighter and healthier smile. For more information on our cosmetic approach to correcting uneven teeth, then schedule a consultation by calling Modern Smiles in North Hollywood, CA, today at 818-763-9353. We also proudly serve patients who live in Burbank, Toluca Lake, and all surrounding communities.