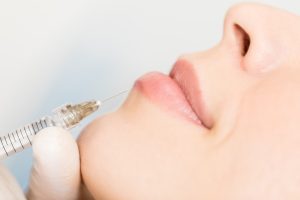 In our last blog, we discussed how Botox and Dysport help offer a more youthful appearance and even treat issues like TMJ disorder. But your Burbank, CA, dentist also has another injectable option to remove fine lines and wrinkles. To help correct common signs of aging, we may suggest treatment with dermal fillers!
How Do They Work?
As we age, we develop wrinkles, sagging skin, lip and laugh lines, and deep nasolabial folds as your collagen and elastin fibers lose their ability to bounce back as they did in our youth. These effects could be exacerbated by the sun, pollution, high levels of stress, and excessive alcohol consumption. To provide a non-surgical solution in our office, we may suggest a dermal filler infection with either Restalyne or Juviderm. Both are a hyaluronic acid-based filler, which isn't animal based and doesn't cause allergic reactions. When injected, the filler is very soft and holds its shape to avoid any lumps forming under your skin.
Administering Your Cosmetic Treatment
The process is a comfortable one, with the dentist injecting the dermal filler directly into specific areas of your face that have lost elasticity and caused lines and wrinkles to form. The entire process takes about 30 minutes to complete. We first apply a topical numbing cream, or may use nitrous oxide dental sedation, ensuring you remain comfortable throughout the process. The filler is administered through controlled sequences in specific areas of your face. No scars or recovery time, and the changes to your appearance last about six months so you can undergo treatment again during your normal checkup and cleaning visits. We may use this solution to offer lip augmentation, smile lifts, remove black triangles from between your teeth, and to smooth fine and deep wrinkles.
Botox and Smile Facelifts with Veneers
We also have Botox, which is administered every five to six months as well and address lines in the face and forehead. To address facial esthetics without injectable treatments, we could also place custom-made porcelain veneers to the font-facing sides of your teeth to provide a Smile Facelift®, providing a more youthful appearance and also correcting a number of issues with the appearance of your teeth. If you have any questions about treatment with dermal fillers, Botox or Dysport, or with porcelain veneers, then please contact our team today.
Do You Have Questions About Facial Treatments?
Botox is not the only option for improving the beauty and youthfulness of your face. For more information on improving facial beauty for our patients, then schedule a consultation by calling Modern Smiles in North Hollywood, CA, today at 818-763-9353. We also proudly serve patients who live in Burbank, Toluca Lake, and all surrounding communities