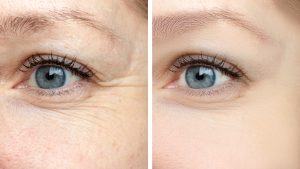 When we talk about cosmetic dentistry, our blogs often focus on unique high-end treatments like teeth whitening, porcelain veneers, or even clear Invisalign® aligners. But your North Hollywood, CA, dentist also provides solutions for common facial esthetic issues, such as fine lines and wrinkles. In today's blog, we're talking about the benefits of Botox and dermal fillers.
Botox and Dermal Fillers
Over time, lines and wrinkles could begin to form around our nose and mouth, leading to common signs of aging. With Botox and Dysport, we administer the medication via an injection into the area of the face with wrinkles or fine lines. The neurotoxin then blocks nerve impulses and prevents muscle contractions to help smooth these lines. The entire process only takes about 15 minutes to complete and can be done as part of a routine checkup, as results tend to last about six months on average.
We also have dermal fillers, such as Restalyne and Juviderm, which we can use to fill areas of the face that have lost collagen and fiber elasticity, causing deep lines around the nose and mouth. Using a hyaluronic acid-based filler, we can restore these areas to offer a smile lift, lip augmentation, smooth lines and folds, and correct other signs of aging. Administering the fillers takes about 30 minutes, and the results can last up to eight months on average!
If you have anxiety about any of these procedures, we can also administer nitrous oxide in a gas form via a mask over your nose, which helps you enter a calm and relaxed state with little to no memory of the procedures.
Treating TMJ Disorders and Headaches
Along with improving facial esthetics, these treatments also address issues like TMJ disorder and bruxism (chronic teeth grinding). These two jaw joint disorders could be the result of strain and stress in the jaw joints and facial muscles, causing headaches and jaw pain. The treatments help ease the strain to prevent uncomfortable symptoms and improve your overall oral health.
Smile Facelift® With Porcelain Veneers
We could also provide a Smile Facelift® without injections at all! By placing porcelain veneers onto the front facing sides of the teeth, we instantly change the shape and color of your teeth. Placement also helps improve facial structure to reduce signs of aging and instantly improve multiple facets of your smile.
Do You Have Questions About Facial Rejuvenation?
We want to help you enjoy a healthier smile and better overall facial esthetics as well. For more information on our cosmetic treatments, then schedule a consultation by calling Modern Smiles in North Hollywood, CA, today at 818-763-9353. We also proudly serve patients who live in Burbank, Toluca Lake, and all surrounding communities.