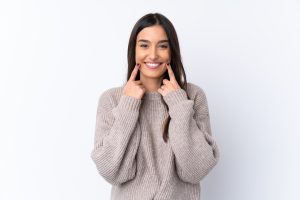 Did you know that dental treatment does more than just erase teeth stains or address damage or decay? In fact, our team can employ lifelike cosmetic treatments to address issues with your facial structure as well, providing a Smile Facelift®. In today's blog, your North Hollywood, CA, dentist is talking a closer look at this unique and advanced treatment option.
Designing Your Custom Restorations
A porcelain veneer fits over the front of a tooth, covering the sides as well as instantly changing the color and shape. In addition, these lifelike restorations also make improvements to your facial structure in the process, filling out your cheeks, lips, jaw, and other aspects of your facial structure. For that reason, they often offer a more youthful appearance, and since we custom-create them, this means they reflect your unique facial structure and smile.
To design them, we first remove a thin layer of enamel from the teeth receiving them, which makes room for your new porcelain veneers. Using digital imaging technology, we take a series of detailed images and combine them to craft a 3D model of your smile. With this information, we next design and then fabricate your restorations from porcelain. Not only is porcelain strong and able to absorb bite forces and pressure, but the material can be shaded to match the color of surrounding teeth, blending seamlessly with your smile.
The Benefits of Veneers and Other Cosmetic Treatments
Along with improvements to your facial structure, the kind usually offered with injectable solutions, we can use them to instantly mask permanent teeth saints. These stains may not respond to teeth whitening, so masking them offers an instant solution. We also place veneers to lengthen worn-down teeth and provide repair for chipped and cracked ones as well. We've closed unsightly gaps between your teeth and even corrected the appearance of minor misalignment, providing an alternative to braces or aligners. The placement also improves overall smile and facial symmetry, and helps correct minor signs of aging in some cases as well. With proper care and attention, they could last for several years, decades in some cases!
Keeping Your Smile Bright at Home
To help keep them strong, and to brighten your smile while you're at home, you should brush twice a day for two minutes, and floss every night before bed without exception! If you have any questions, then contact our team today.
Would You Like to Learn More About Cosmetic Dentistry?
Our team wants to help our patients enjoy stunning new smiles with high-end cosmetic treatment options. For more information on improving overall smile beauty, then schedule a consultation by calling Modern Smiles in North Hollywood, CA, today at 818-763-9353. We also proudly serve patients who live in Burbank, Toluca Lake, and all surrounding communities.