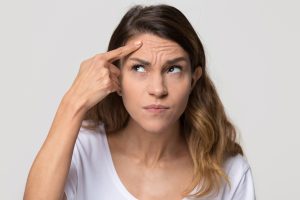 Cosmetic dentistry refers to a number of different procedures. Some remove teeth stains, others transform the appearance of the teeth. Still others can actually reshape the gum line with laser technology. But what about correcting fine signs of aging? In today's blog, your North Hollywood, CA, dentist looks at how we use Botox and Dysport to improve facial beauty and also treat issues like TMJ disorder and bruxism.
How Does Botox and Dysport Work?
Over time, the muscle contractions when you smile and frown cause the skin to become less elastic. Soon, wrinkles and lines form that become more prominent with time. An injectable solution helps by blocking nerve impulses and preventing the contractions that lead to wrinkles. The skin begins to look much smoother and fine lines and wrinkles disappear.
Treatment involves administering Botox or Dysport via an injection to areas around your forehead, eyes, neck, and face. The entire process takes about 15 minutes to complete, and you return to your normal activities without a need for recovery. To help those anxious about the procedure, we can administer nitrous oxide gas through a mask over the nose. Also known as laughing gas, this allows people to enter a calm and relaxed state. The sedation wears off immediately once the procedure ends, and you can even drive yourself home.
Long-Lasting Results
Improvements take about three days to become visible, and the changes last about five months, so we can re-administer them in checkup and cleaning visits every six months. Repeated treatments often allow people to enjoy longer-lasting results. We've used this system to help remove wrinkles in the forehead, crow's feet, and frown lines between the eye brows. We also help address loose skin around the face or neck, and treat gummy smiles.
Solutions for TMJ Disorder
We also use Botox and Dysport to address discomfort related to TMJ disorder, also known as TMD. A common jaw joint disorder, TMD could lead to problems opening and closing the mouth, and also cause regular headaches and jaw pain. With an injectable facial treatment, our team can ease tension in the jaw joints and facial muscles to reduce the severity of symptoms and help you enjoy better oral health. If you have any questions, then contact our team today. We want to help you enjoy your best possible smile with high-end cosmetic care!
Do You Have Questions About Injectable Cosmetic Treatments?
We have a host of cosmetic treatments, some designed to help the teeth or the gums, and yes, some mean to address facial esthetics. For more information on our approach to injectable cosmetic treatments, then schedule a consultation by calling Modern Smiles in North Hollywood, CA, today at 818-763-9353. We also proudly serve patients who live in Burbank, Toluca Lake, and all surrounding communities