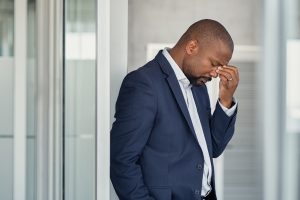 Do you often suffer from headaches and migraines? You may be surprised to learn that frequent headaches could be linked to strain on your jaw joints. By treating TMJ disorder, your North Hollywood, CA, dentist could address this discomfort and help improve bite balance as well.
The Link Between TMD and Headaches
TMJ disorder occurs when the joints connecting our jaw and skull, known as the temporomandibular joints, undergo excessive strain. When the disorder develops, this could eventually mean trouble fully opening and closing. People with the disorder often report headaches and migraines, as well as a popping or crackling sensation in the jaw. Pain in the neck and shoulders, or aches in face and jaw, are also reported as well. If this issue leads to teeth grinding, then you may also experience tooth sensitivity or toothaches.
Possible Causes (and a Link to Teeth Grinding)
The strain behind your TMD could be caused by injury to the face or jaw, untreated teeth grinding (bruxism), missing teeth, dental misalignment, or bite imbalance. As part of your exam, we will look at the wear and friction on your teeth, as well as other factors, to identify the disorder. We then assess the cause and severity before creating a personalized treatment plan to return your smile to a healthier and more comfortable state.
Treatment Options
Treatment options vary. If misalignment is behind your disorder, then you may need clear aligners to correct the position of your teeth. We could also correct bite imbalance with the placement of one or more custom dental restorations, like crowns. We could also discuss medication, physical therapy, or oral surgery to address jaw alignment or damaged structures. However, the most common solution is to wear a custom oral appliance as you sleep. The device is created from detailed impressions we take of your smile. The oral appliance will look and fit much like a simple mouthguard, but is actually designed to move the jaw to ease the strain on your jaw joints. If you also grind your teeth, the same device prevents further damage by acting as barriers between the upper and lower sets of teeth. If you have any questions about improving oral health and addressing these kinds of preventive and general concerns, then contact our team today to learn more.
Do You Have Questions About Advanced Dentistry?
Our team is ready to tackle your TMD and restore the health and comfort of your smile. For more information on our dental treatment options and solutions for bruxism and TMJ disorder, schedule a consultation by calling Modern Smiles in North Hollywood, CA, today at 818-763-9353. We also proudly serve patients who live in Burbank, Toluca Lake, and all surrounding communities.