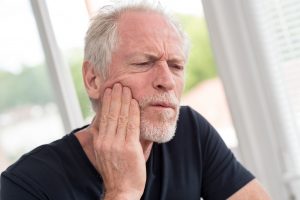 Have you ever heard of TMJ disorder? Also known as TMD, this serious disorder develops when our jaw joints undergo excessive amounts of strain. Eventually, this could lead to teeth grinding, damaged smiles, and a host of uncomfortable symptoms. In order to treat your TMD and return your smile to optimal health and function, your Burbank, CA, dentist may suggest a custom oral appliance.
What Causes TMD?
The temporomandibular joints connect our jaw to the skull and are responsible for the movements necessary to eat and speak. However, when these joints undergo excess strain then TMJ disorder may arise, eventually leading to problems opening and closing the mouth completely. Causes of the strain vary, but could include persistent teeth grinding, tooth loss, bite imbalance, dental misalignment, high levels of stress, or injury to the face or jaw.
Warning Signs and Complications
People with the disorder may notice their jaws hurt, or they experience pain in the face, neck, or shoulders. Headaches and migraines are common, as is a popping or clicking sensation in the jaw. Since the issue is often related to teeth grinding, toothaches and tooth sensitivity could also occur. If you experience any of these symptoms, then please let us know. We can perform a detailed diagnosis, including using technology to examine your jaw joints and oral structures. Or team ca also look at the teeth for any signs of wear and friction. Without treatment, this disorder cold lead to damaged teeth and the increased risk of tooth decay and infection.
Treatment Options
We could use orthodontics to correct misalignment and improve balance, or use a custom dental restoration, like a crown, to help improve overall bite balance. We also offer medication, physical therapy, and in some cases, oral surgery and reconstructive dentistry. However, the most common solution is typically a custom-made oral appliance. After we take detailed impressions and measurements of your smile, we will use the information to create a device that looks and fits much like a mouthguard. When worn as you sleep, the device actually repositions the jaw to ease the strain on the joints and reduce the severity of symptoms. The device also helps prevent further damage if you grind or clench your teeth! If you have any questions about treatment, or if you would like to schedule a consultation and diagnosis, then contact our team today.
Do You Have A Headache or Aching Jaw?
We can identify and address the cause of your headaches and jaw pain. For more information on our preventive treatment options, then schedule a consultation by calling Modern Smiles in North Hollywood, CA, today at 818-763-9353. We also proudly serve patients who live in Burbank, Toluca Lake, and all surrounding communities.