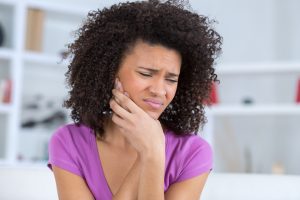 Have you ever noticed a popping or clicking sensation in your jaw? If so, you could be experiencing the common symptoms of a serious jaw joint issue. In today's blog, we're talking about the causes of TMJ disorder (also known as TMD) and what our North Hollywood, CA, patients can do to treat the issue!
Try Our Quiz on Treating TMD
True or False: Jaw joint strain leads to TMD.
True or False: Headaches could be a warning sign.
True or False: Changes to your daily routine could help.
True or False: With an oral appliance we treat TMJ disorder.
Answer Key
True. When our jaw joints, which control the actions necessary to eat and speak, undergo excessive strain, then TMJ disorder forms. Eventually, the disorder makes opening and closing the mouth difficult. Possible causes include tooth loss, misalignment, injury to the face or jaw, and stress.
True. Patients with TMJ dysfunction may experience a number of uncomfortable symptoms, such as popping or clicking in the jaw, headaches, jaw pain, aches in the neck or face, and shoulder pain. If you experience frequent pain in or around your face or jaw, then contact our team for a diagnosis.
True. We may suggest cutting back on caffeine products and avoiding chewing on hard objects or chewy foods, all of which could exacerbate the issue.
True. An oral appliance will be worn at night as your sleep. The device fits comfortably and helps reposition the jaw to ease strain on the joints. We may also recommend jaw realignment, or providing orthodontic treatment or physical therapy. We will examine your smile to see which option will best address your TMJ-related discomfort and provide relief. If you have any questions, then please contact our team today.
Do You Have Questions About TMD?
We can identify and treat TMJ disorder using a custom-made appliance. For more information, schedule a consultation by calling Modern Smile in North Hollywood, CA, today at 818-763-9353. We also proudly serve patients who live in Burbank, Toluca Lake, and all surrounding communities.