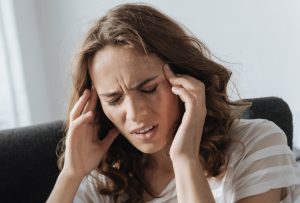 Temporomandibular joint (TMJ) disorder can be the cause of numerous chronic aches and pains. For instance, because your jaw function relies on these joints, it's common for patients with TMJ disorder to have trouble biting and chewing without their jaw joints popping or shifting painfully. For many patients in North Hollywood, TMJ disorder can also be the cause of symptoms that aren't obviously related to their dental health. That includes chronic headaches and migraines that result from the constant stress on your jaw joints and nerves.
Understanding TMJ Disorder
The problem with TMJ disorder is that it can mean something different for everyone. In some cases, one or both of your jaw's joints may be excessively inflamed or damaged. In others, the joints can lose their full range of motion due to traumatic injury or rheumatoid arthritis. In most common cases, it results from a bite imbalance that forces the joints to work overtime just to keep your jaw and teeth even. This excessive strain can damage one or both joints or irritate them enough to disrupt their proper function.
The Connection to Headaches and Migraines
While some symptoms, like aches and pains in your jaw muscles, can be obvious, TMJ disorders can also cause various other forms of discomfort, as well. When one or both of the joints become damaged, they can aggravate the large nerve that rests near them, known as your trigeminal nerve. Together, the three branches of this nerve group innervate most of your head, neck, and face. When any part of the group is disturbed, the discomfort can radiate throughout the other branches, leading to increasingly worse headaches and migraines. Other symptoms may also include:
Pain and ringing in your ears (tinnitus)
Sore, painful muscles in the neck and back
Uncontrollable teeth-grinding (bruxism)
Diminishing bite function (inability to open and close your jaw)
And more
Find Out if TMJ Treatment Can Ease Your Migraines
If you suffer from chronic headaches and migraines, then ask us if TMJ disorder may be the cause behind them. For more information, schedule a consultation by calling Modern Smile in North Hollywood, CA, today at 818-763-9353. We also proudly serve patients who live in Burbank, Toluca Lake, and all surrounding communities.