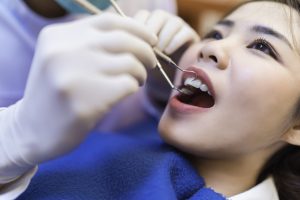 Do you want a brighter smile, one that grabs people's attention? If so, then you should start by scheduling an exam with your North Hollywood, CA, dentist! With a routine exam and cleaning, we gain a better understanding of your smile, and the care that will be needed to address your esthetic concerns.
The Checkup Process
During your exam, we will sit down and take a close look at your smile. With digital x-rays and other advanced imaging systems, we can gain a detailed view of your teeth, gums, roots, jawbone, and oral structures. From there, we will be able to use these digital images to better identify the earliest warning signs of developing issues, providing treatment to correct them and protect your smile. We will look for waring signs of cavities, infections or abscesses, gingivitis, gum disease, and even disorders like TMD and bruxism (teeth grinding). We can screen for oral cancer, and help identify the causes behind many of your cosmetic concerns.
Cleaning Your Teeth
During the same visit, we will also clean the teeth thoroughly. The procedure involves carefully removing all plaque and tartar from the teeth with an ultrasonic scaling device and a manual tool. The process helps prevent plaque buildup from weakening and eroding tooth enamel, and inflaming gum tissues, processes that lead to tooth decay and gum disease A cleaning also helps freshen breath and brighten the smile as well. After we remove the buildup, we polish the teeth. The entire process only takes a few minutes to complete!
Creating a Treatment Plan
After your checkup we will discuss your hopes and goals of your smile. We then create a treatment plan not only to correct restorative and general concerns, but to improve smile beauty as well. The restorations we use to address issues like cavities and infections are crafted from lifelike materials. We also use advanced technology to offer care with greater precision and accuracy. If you have any questions about our checkups and cleanings, or if you would like to schedule one for you or a member of your family, then please contact our team today. Let's start the summer on the road toward a better smile!
Do You Have Questions About Improving Your Smile?
We want to help you start your journey toward a brighter and more attractive smile. We have an array of preventive, restorative, and cosmetic treatments to improve health, function, and beauty. For more information on cosmetic and preventive dentistry, then schedule a consultation by calling Modern Smiles in North Hollywood, CA, today at 818-763-9353. We also proudly serve patients who live in Burbank, Toluca Lake, and all surrounding communities.