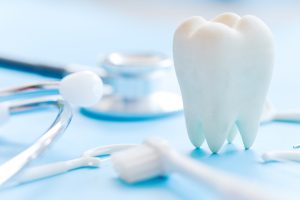 Periodontal disease may lead to uncomfortable symptoms, receding gums, and in advanced stages, adult tooth loss. Fortunately, there are steps our North Hollywood, CA, patients can take to safeguard their smiles. We're looking at how cleanings and preventive treatments help people avoid the onset of gum disease.
The Dangers (and Warning Signs) of Gum Disease
Gum disease occurs when our gums become inflamed. Gingivitis then forms and as the inflammation grow worse and the gums pull away from the teeth, deep pockets form and eventually, so does periodontal disease. Causes of inflammation include family history of the disease, smoking and tobacco use, and poor oral hygiene. Patients often report bleeding gums, soreness, redness, swelling, or gum recession. If one or more of these symptoms sound familiar, then contact your dentist today. Without treatment, the disease could eventually lead to tooth loss!
Dental Cleanings
A routine six-month cleaning helps prevent gum disease by allowing the dentist or hygienist to remove all plaque from the teeth. Plaque causes inflammation and leads to a greater risk of periodontal problems. You should have the visit every six months (three to four months if you have risk factors for periodontal issues). The procedure involves removing the plaque buildup with an ultrasonic scaler. We then polish the teeth, offering a brighter smile and a reduced risk of halitosis.
Scaling and Root Planing
If you have gingivitis, we may reverse the problem with a scaling and root planing. The procedure also helps control gum disease, preventing the advanced stages responsible for tooth loss. The procedure is a more serious version of a dental cleaning, one that could take between one and four visits to complete, depending in the severity of your plaque buildup. We remove all plaque from the surface of the teeth, as well as the exposed roots. We then offer a treatment plan to help manage your periodontal disease.
Do You Need a Cleaning?
Let us help you enjoy a healthy smile free of periodontal disease! For more information, schedule a consultation by calling Modern Smile in North Hollywood, CA, today at 818-763-9353. We also proudly serve patients who live in Burbank, Toluca Lake, and all surrounding communities.