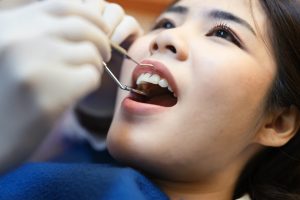 The end of the year is approaching fast, and with the hustle and bustle of the holiday season soon to be here, you may run out of time to see your dentist. In today's blog, we urge our Burbank, CA, patients to make time for a routine visit before the year ends, so they can use their benefits and also enter 2020 with a brighter and more attractive smile.
How A Checkup and Cleaning Helps Your Smile
A checkup and cleaning helps us monitor your smile throughout the year. We suggest one every six months, and during the exam we employ advanced technology to obtain a detailed look at your teeth, gums, oral structures, and roots. From there, we can identify common oral health problems in the early stages and them treat them before they lead to serious complications, such as pain or even tooth loss. Our exams often identify decay, infection, gingivitis, gum disease, TMJ disorder, bruxism (teeth grinding), and even oral cancer. We also clean the teeth during the procedure, removing the plaque buildup from the teeth with an ultrasonic scaling device. A cleaning not only brightens the teeth, but also helps reduce the risk of cavities and periodontal disease. These procedures are necessary for children and adults alike!
Use Your 2019 Benefits!
We're running out of time to use your 2019 dental insurance benefits. Don't let them simply expire, talk to our team. We can perform an exam and cleaning, often covered in most plans, and if you need treatment, we can use your 2019 benefits before the expire, and then resume treatment the next year when your next round of benefits become available. Let's work together to start 2020 with our healthiest smiles yet.
Better Oral Hygiene in 2020
Our team often finds that people with the best intentions don't take proper care of their smile at home. This year (and next) let's work on improving oral hygiene habits. People should start their day by brushing for two minutes, using a toothbrush with soft bristles and a toothpaste that contains fluoride. We also need to brush again before bed and floss as well. This benefits people of all ages, and is crucial for avoiding common oral health problems. If you would like to schedule your next visit for you or a member of your family, then contact our team today.
Ready for a Preventive Visit?
With general and preventive dentistry, we can help smiles of all age stay healthy and bright. For more information on our exams and cleanings, then schedule a consultation by calling Modern Smiles in North Hollywood, CA, today at 818-763-9353. We also proudly serve patients who live in Burbank, Toluca Lake, and all surrounding communities.