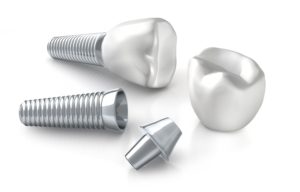 The problem with tooth loss is that you don't immediately see the most disastrous effects of it. Sure, the appearance of your smile can be significantly affected and that is important to your oral health and bite function. However, the things that occur underneath your gums, where the roots of your teeth used to be, can have an even more substantial impact on your long-term oral health and quality life. Fortunately, patients in North Hollywood who've lost one or more teeth can often prevent those impacts thanks to the science of dental implantology. With one or more implant posts to anchor your replacement teeth, you won't have to worry about what you can't see.
Underneath Your Gums
The reason the loss of your teeth roots doesn't seem like a big deal at first is because it doesn't immediately affect the quality of your bite. After placing a dental bridge or partial/full denture to replace your lost teeth, it can seem like the problem of your lost teeth is solved. However, without the support of implanted anchors, like roots, your prosthesis won't be as comfortable and secure as it could be. It also can't stimulate your jawbone underneath your gums the way your teeth roots did, and over time, that lack of stimulation can cause your jaw to lose mass and density.
Supporting Your Bite Function
Dental implants can restore the support system that your lost teeth roots were responsible for and help stop the more destructive consequences of tooth loss. That includes the loss of your jawbone structure, which makes it more likely that you'll lose teeth in the future and suffer even more bite complications. Because they reestablish most of the support that your teeth need to remain strong and healthy, dental implants offer the most comprehensive way to reestablish your bite's full function.
Learn More About the Value of Dental Implants
Dental implants are successful because they mimic the biological functions of your healthy, natural teeth roots. For more information, schedule a consultation by calling Modern Smile in North Hollywood, CA, today at 818-763-9353. We also proudly serve patients who live in Burbank, Toluca Lake, and all surrounding communities.