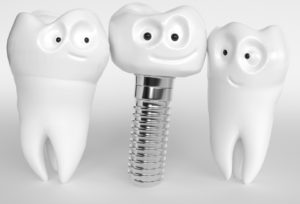 While most people have a better chance at preserving their healthy smiles for life thanks to advanced dental care, many still face the problem of tooth loss, or will at some point in the future. For patients in North Hollywood, CA, who do experience tooth loss, the void that's left in their smiles can lead to a host of subsequent problems if not addressed as soon as possible. Fortunately, advanced dental implants can help them overcome those problems, successfully rebuild their smiles, and reduce their risks of losing even more teeth in the future.
Why tooth loss is still a concern
As dentistry has advanced, we've learned just how easily tooth loss can be prevented. For instance, it's greatest risk factor – gum disease – can be prevented or controlled with excellent hygiene and routine dental care, which prevents the disease from costing you one or more teeth. However, for many patients, a combination of inadequate hygiene, infrequent dental care, and/ore neglecting to address gum disease can give the condition (and any other oral health concern) time to lead to tooth loss.
What dental implants do to address it
When you do lose one or more teeth, some of the most profound consequences stem from the loss of your teeth roots. Besides supporting the crowns of your teeth as you bite and chew, the roots also keep your jawbone well-nourished by stimulating it. Without this stimulation, your jawbone would gradually lose mass, density, and strength. With dental implants, however, you can successfully restore the stimulation and keep your jawbone from degrading.
Learn if Dental Implants Are Best for Addressing Tooth Loss
Tooth loss creates several different concerns for your oral health. With one or more dental implants, however, you can successfully address most of them. For more information, schedule a consultation by calling Modern Smile in North Hollywood, CA, today at 818-763-9353. We also proudly serve patients who live in Burbank, Toluca Lake, and all surrounding communities.