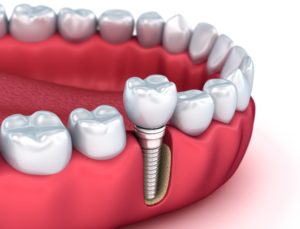 With the many substantial benefits that dental implants provide, it's a good thing that most people are good candidates for them. However, some aspects of your oral health directly affect whether or not you qualify for dental implant posts. Therefore, before recommending dental implant placement for patients in North Hollywood, CA, we'll perform a comprehensive examination to gauge if the state of your oral health might cause complications for your replacement teeth later. If we do notice trouble, then we can recommend appropriate treatment options to restore your good oral health and your dental implant candidacy.
If Your Gums Are Still Healthy
Gum disease is the most common reason behind adult tooth loss, and therefore, it can be one of the most common hindrances to patients receiving dental implants. That's because gum disease destroys the gum tissues and jawbone that support your teeth, and likewise, your dental implant posts. If you haven't treated and controlled your gum disease, then it may still be causing damage long after you lost teeth. Until you get gum disease under control, your dentist will not be able to recommend placing any number of dental implants.
If Your Jawbone Is Still Strong
Besides gum disease, jawbone degradation is another common reason for patients not immediately qualifying for dental implants. Jawbone degradation occurs in cases of severe gum disease, which can erode your healthy bone structure, or following tooth loss after your missing teeth roots stop stimulating your jawbone. Fortunately, you may be able to boost your jawbone's strength and integrity with a custom jawbone graft.
Learn About Your Dental Implant Candidacy
If you've lost one or more teeth, then you may be an excellent candidate for a dental implant-supported prosthesis. For more information, or to find out if you qualify for dental implants, schedule a consultation by calling Modern Smile in North Hollywood, CA, today at 818-763-9353. We also proudly serve patients who live in Burbank, Toluca Lake, and all surrounding communities.