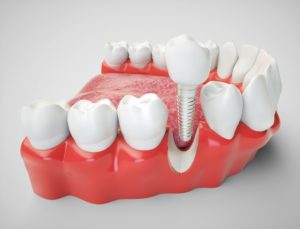 While there are several common issues that can still affect your smile, today's advanced dental health treatments and techniques make most of them less significant than they used to be. For instance, the rate at which patients lose teeth has dropped dramatically thanks to more comprehensive and effective preventive and restorative care. Even patients in North Hollywood who do lose teeth can completely rebuild their smiles, as well as protect their long-term oral health, with the help of innovative dental implants.
What do dental implant posts do?
Dental implants are innovative because they do something that other dental prostheses have never been able to – they replace the roots that supported your lost teeth. Implant posts are made from biocompatible titanium, which means your jawbone easily fuses to them as it heals. This makes them as sturdy and vital as your healthy, natural teeth, and gives them the ability to support your dental prosthesis with unmatched comfort and stability.
How do I know if I qualify for implants?
The procedure for receiving an implant-supported restoration involves surgically placing your implant posts in your jawbone. Its success relies on you having a strong and healthy enough jawbone to support the process and to remain strong enough to support your implants long afterward. Therefore, before recommending implants, we'll thoroughly examine your oral health to ensure that jawbone erosion, periodontal disease, or other issues won't compromise your procedure.
Do I qualify if I already wear a bridge/denture?
The good news is that even if you already wear a dental bridge or denture, you may still qualify for dental implant placement. If necessary, we might suggest periodontal treatment to control gum disease and/or bone grafting to strengthen your jawbone. Then, we can design an upgraded prosthesis that comes with the more lifelike support of one or more dental implant posts.
Get Answers to More Questions About Dental Implants
There are many benefits to choosing dental implants to replace your lost teeth. For more information on those benefits, or to get answers to more of your questions, schedule a consultation by calling Modern Smile in North Hollywood, CA, today at 818-763-9353. We also proudly serve patients who live in Burbank, Toluca Lake, and all surrounding communities.