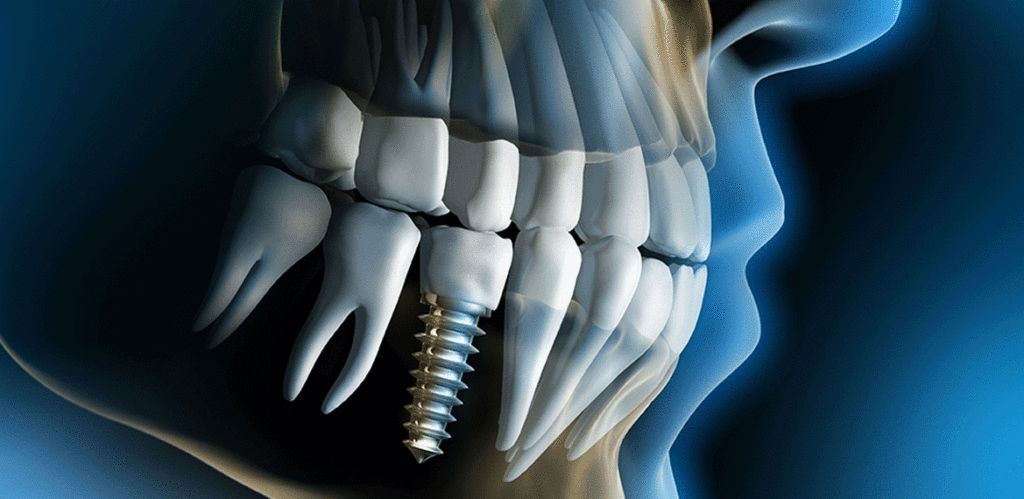 Dental Implants have advanced to such a degree that they have become the most popular choice for replacing missing teeth today. Improvements in manufacturing, design, surface treatment, and comfort have made implants extremely stable, low maintenance and with an unparalleled natural look and feel. Furthermore, the time needed to heal prior to restoring of an implant with a crown has reduced by a third from 6 months to only  2.  The first phase of an implant installation is the placement of the titanium post in the jaw bone to serve as the root structure for the future crown. After the implant has fused to the bone and stabilized, a custom made porcelain crown is designed and attached to the post.
To help ensure predictable and successful results during this procedure, Dr. Kasra Tajik creates a 3D printed surgical guide that ensures accurate and risk free placement of the implant with computer generated CT Scan model of the patient's mouth and bone structure. To ensure complete comfort, Dr. Tajik performs the procedure in his state of the art facility where a comfortable and relaxing environment is provided before and after the procedure and patient's are adequately anesthetized with  local anesthetic or IV sedation maximum comfort. With proper preparation, the implant placement surgery is only a few minutes long with little or no discomfort. Afterwards, most patients return to work and their normal daily schedule with very little downtime.
If you're interested to learn more about dental implants or your options to restore a missing tooth, please schedule a free consultation with Dr. Tajik at Modern Smiles Dentistry in North Hollywood today.