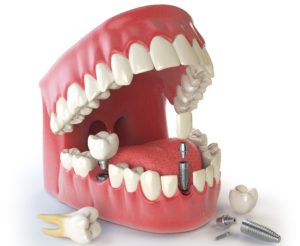 To many patients, losing one or more teeth is the worst thing that can happen to their smiles. However, depending on how well they replace the lost teeth, it may just be the beginning of more serious underlying issues. For instance, losing the roots of your teeth can have an impact on your jaw and oral structures that exceeds just your smile's appearance. Because conventional prostheses like bridges and dentures don't replace lost teeth roots, this impact can only be addressed with an appropriate number of dental implant posts.
All the Things that Tooth Loss Means
A traditional dental bridge, partial, or complete denture mimic the appearance of your healthy, natural teeth in several ways. They're designed using advanced digital imaging and measuring equipment for highly precise results, and they're crafted from materials like porcelain that are closely customized to match your tooth's color and appearance. However, they don't come with teeth roots, which not only support your teeth, but also sustain your jawbone by stimulating a healthy flow of nutrients.
What Dental Implants Do, Now and Later
This is the main purpose of dental implant posts – to support your lifelike prosthesis with the same comfort and stability as your healthy, natural teeth roots. When you bite, chew, and speak, your bridge or denture won't shift or move uncomfortably, and the stimulation will help keep your jawbone well-nourished. This means you're less likely to experience jawbone degradation as a result of lost teeth roots, or the increased risk of further tooth loss that come with it.
Recover from Tooth Loss Better with Dental Implants
With the ability to reestablish the functions of lost teeth roots, dental implants go further than any other restoration to rebuild your smile after tooth loss. To learn more, schedule a consultation by calling Modern Smile in North Hollywood, CA, today at 818-763-9353. We also proudly serve patients who live in Burbank, Toluca Lake, and all surrounding communities.