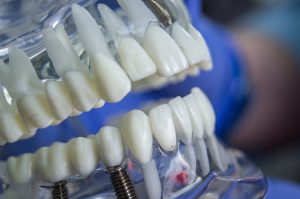 As modern dental prostheses (such as dental bridges and dentures) have advanced over the last several decades, they've become more durable and functional as well as more lifelike and cosmetically appealing. However, due to many different factors, such prostheses rarely last for life, and many patients in North Hollywood who wear them will have to have their replacement teeth adjusted or replaced at some point in their lives. Fortunately, adding an appropriate number of dental implant posts can help most patients enjoy their new smiles longer. In many cases, the implant posts that are inserted into your jawbone can last for life.
What Makes a Dental Implant Work
A dental implant is a small post that is designed to mimic the way a natural, healthy tooth root works. The post is inserted into your jawbone in place of your lost tooth and its root, and over time, your jawbone fuses to the post. This process, known as osseointegration, is key to what makes dental implants work. After your jawbone has healed, the implant posts become a permanent part of it, and as such, your dentist can utilize them to support your lifelike dental prosthesis in a much more comfortable, stable, and secure manner than traditional options.
How to Make Your Implants Last
Because your dental implant posts can last for life, they can also help boost the durability of the dental crown, bridge, or denture that they support. Without shifting uncomfortably or moving along your dental ridge, your prosthesis may experience less wear and tear, allowing it to last longer before needing to be readjusted or replaced. Most important, your implant posts can help prevent your jawbone from losing density and shrinking, which is a significant reason why traditional prosthesis often need to be replaced.
Learn how dental implants improve your smile
Because of the unique way in which dental implants interact with your smile, many patients can enjoy their benefits for life with the right care and maintenance. For more information, schedule a consultation by calling Modern Smile in North Hollywood, CA, today at 818-763-9353. We also proudly serve patients who live in Burbank, Toluca Lake, and all surrounding communities.