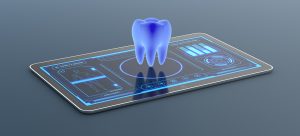 When people from Burbank, CA, and surrounding communities visit our office, we offer personalized treatment to help them enjoy healthy smiles, improving everything from function to appearance. In order to help people enjoy their time at the office and receive treatment with accuracy and precision, we often employ advanced technology, including 3D imaging and laser dentistry!
CT Guided Implant Placement
To ensure implant placement that allows your new teeth to stay strong and absorb bite forces, we employ advanced computed tomography technology. Our CT scan takes 3D x-rays of your smile from several different angles, all in a matter of minutes. Combined, these images create a highly detailed 3D model of your entire smile, including your teeth, roots, jawbone, and more. We then plan your treatment, including placement, with greater accuracy. The system uses the model and smile measurements to guide the placement, ensuring a strong tooth that looks natural and offers long-lasting replacement.
iTero® 3D Imaging
 With iTero®, we again employ advanced treatment options, this time to replace the old method of gathering dental impressions. You no longer need to bite down on molds filled with sticky materials, holding your bite for several minutes. Instead, we take a series of digital pictures of your smile, from a tiny camera set at the end of a wand. We take the images in seconds and use them to create a detailed model of your entire smile. Using this model, we can design Invisalign® aligners, TMJ and bruxism (teeth grinding) devices, sleep apnea solutions, and more. The resulting appliances and aligners will fit comfortably and offer treatment with greater precision.
BIOLASE® Dental Lasers
With our BIOLASE® Epic X laser, we can perform a variety of soft tissue procedures. The laser enables us to contour the gum line, improving smile esthetics, or remove infected tissue, treating gum disease. We also offer crown lengthening, teeth whitening, scaling and root planings, and even treatment for cold and canker sores. The lasers essentially cauterize the area, which means destroying harmful bacteria and reducing the risk of infection. There will be little to no bleeding, and no need for anesthesia. Treatment employing lasers also reduces swelling and prevents the need for sutures. If you have any questions about the technology we implement at our office, or if you're ready to tackle your oral health and improve your smile's beauty and function, then please contact our team today.
Do You Have Questions About The Technology We Use?
Our team is ready to help you enjoy optimal oral health and beautiful smiles with advanced technology. For more information on the technology we implement, then schedule a consultation by calling Modern Smile in North Hollywood, CA, today at 818-763-9353. We also proudly serve patients who live in Burbank, Toluca Lake, and all surrounding communities.