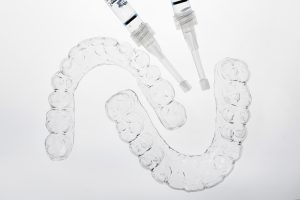 If you would like to enjoy a more attractive smile, but don't know how to rid yourself of embarrassing teeth stains, then you should contact your Burbank, CA, dentist! We have two very different teeth whitening options, both designed to remove discoloration and help brighten teeth by several shades. Which option is for you, and when should your contact our team?
Don't Live with Teeth Stains
If you have stains forming on your teeth, that's understandable. After all, most occur as a result of the foods and drinks we consume among other factors. However, you don't have to live with discoloration and you don't have to rely on over-the-counter solutions, like strips or whitening toothpastes, either. Store bought treatment options offer results that are not very dramatic and definitely don't last very long. They could also lead to tooth sensitivity! Instead, talk to our team about professional treatment options.
At-Home Solutions
First, our home-based option addresses more severe cases of discoloration, and also helps prevent the onset of tooth sensitivity. The process begins with an initial visit, in which we take detailed impressions to create a set of trays. We send you home with these trays, along with a powerful bleaching gel. In the comfort of your own home, you can fill the trays with gel and wear them for between 30 and 45 minutes each day, over a period of one to two weeks. The trays not only help ensure even results, but prevent the gel from being diluted by saliva. For some, results could include a smile brightened by up to eight different shades!
A Brighter Smile in Two Hours
If you need optimal results in a shorter time frame, we also have an in-office procedure. With our in-office treatment option, we put a protective covering over your lips and gums, and then place a powerful bleaching gel onto the surfaces of the teeth. The gel then begins breaking up stains when exposed to a curing light. The entire process takes about one to two hours, and can help you enjoy a noticeably brighter smile. Following treatment, routine homecare (nursing and flossing) and cutting back on drink with dark pigments and tannins (like tea, red wine, soda, and coffee) could help your new results last much longer! If you have any questions, then contact our team today!
Do You Have Questions About Teeth Whitening?
Our team wants to help you enjoy a more attractive smile with high-end professional treatment options. For more information on our approach to teeth whitening, then schedule a consultation by calling Modern Smiles in North Hollywood, CA, today at 818-763-9353. We also proudly serve patients who live in Burbank, Toluca Lake, and all surrounding communities.