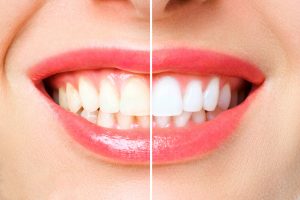 Do you want a brighter smile, preferably in a very short time frame? If you have a big event coming up, then you may not want to wait for the results of a home-based option that takes at least a week. Fortunately, your Burbank, CA, dentist has cosmetic treatments that remove or mask stains in a single visit!
Our In-Office Teeth Whitening
Our in-office teeth whitening procedure offers results to our patients in as little as one to two hours. We start by placing a protective covering over your lips and gums. Next, we apply a powerful bleaching gel to your teeth, a gel that we activate with a light. The gel then begins to break up and remove stains from the surfaces of your teeth. We repeat the process as necessary to help you gain your brightest smile, and some people enjoy teeth brightened by several shades. This option is often requested for people with a wedding or special event on the horizon. Perhaps a vacation?
Dental Bonding
Most teeth stains form on the surfaces of our teeth, the result of the foods and drinks we consume, the level of dental hygiene we practice, or even the use of tobacco products. However, sometimes stains form beneath the enamel. Known as intrinsic discoloration, they could be caused by fluorosis, injury, or tetracycline exposure at a young age. These may be difficult for teeth whitening to remove. However, we could mask them in a single visit with dental bonding!
Bonding employs the same composite resin we use for our tooth-colored fillings. A blend of glass and acrylic, the material can be shaded to match the color of surrounding teeth and mask permanent stains in a single application. We simply clean the tooth, apply the material, cure it with a light, and then polish your smile. The same treatment could also repair minor damage and address issues with the shape and surface texture of your smile.
Better Oral Hygiene
To help your results last longer, you should make sure you brush and floss daily, which removes food particles and lowers the risk of plaque buildup, keeping your smile healthy (and free of unsightly discoloration). Cutting back on drinks with tannins, like tea, red wine, and coffee, could also help. As could lowering your consumption of sugary foods, which could otherwise feed harmful plaque-causing bacteria.
Do You Have Questions About Cosmetic Dentistry?
We want to help people obtain a brighter smile, one that inspires confidence! For more information on masking or removing teeth stains, then schedule a consultation by calling Modern Smiles in North Hollywood, CA, today at 818-763-9353. We also proudly serve patients who live in Burbank, Toluca Lake, and all surrounding communities.