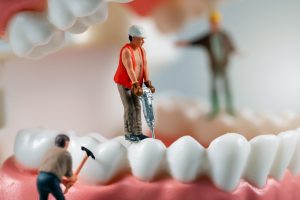 We offer cosmetic dentistry to help improve the overall beauty of the smile. But what if you have a restorative issue, such as a cavity? Fortunately, your Burbank, CA, dentist can still help offer a lifelike solution! Our dental restorations, including fillings, can be crafted from strong, durable, and lifelike materials that blend with the smile.
Composite Resin
The material we use for the treatment is known as composite resin. The material is metal-free, which means it is safe for kids, pregnant women, the elderly, and everyone else. Composite resin blends glass and acrylic, so the material can actually be shaded to match the color of the surrounding tooth structure. The restoration then stays in place for many years to come, protecting your teeth from further decay or the risk of an infection.
When to Place a Filling
We may suggest them to address a cavity. A dental cavity forms when the enamel becomes weakened due to injury or as a result of plaque buildup accumulating due to poor oral hygiene. The filling halts the rate of decay to prevent infection or abscess. Placement involves removing decay and then apply the material in several layers. We then shape the tooth as we cure the composite resin under a light. If you have a damaged tooth, we could use the material to repair it with dental bonding. The bonding process also uses the material to mask teeth stains or address other esthetic issues.
Preventing Tooth Decay
You can take steps from home to help prevent tooth decay too! First, make time to brush your teeth when you wake up and again before bed, and also floss every night before bed. These actions limit plaque buildup. You should cut back on sugary foods and drinks too, as these promotes plaque buildup. You should also attend routine checkup and cleaning visits every six months, so we can remove plaque and discover possible areas of concern in the earliest stages, treating them before you develop discomfort or serious complications! If you have any questions about treating tooth decay or esthetic issues with fillings or bonding, or if you would like to schedule a preventive checkup and cleaning, then contact our team today.
Do You Have Questions About Our Lifelike Fillings?
Our team is ready to help people with cavities enjoy a dental restoration that looks beautiful and lasts for many years to come. We offer our patients a number of high-end cosmetic treatment options! For more information on cosmetic and restorative dentistry, then schedule a consultation by calling Modern Smiles in North Hollywood, CA, today at 818-763-9353. We also proudly serve patients who live in Burbank, Toluca Lake, and all surrounding communities.