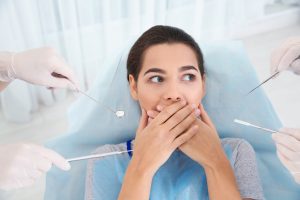 Do you have dental anxiety? If so, then you definitely are not alone. In fact, studies show that between 8% and 15% of people in the United States suffer from some form of dental-related anxiety. Without routine care from your dentist, then your smile's health could degrade. To help people in North Hollywood, CA, with anxiety, we may suggest dental sedation.
Reasons to Receive Sedation
As we mentioned above, this is great way to help patients with minor or severe dental anxiety undergo treatment, whether that means one or multiple procedures. A calming agent also assists nervous children and adults with developmental difficulties that could otherwise complicate the treatment process. If you're undergoing oral surgery or reconstructive dentistry, we may look to these options in addition to local anesthesia to help you remain calm and relaxed, while also reducing the amount of time required to complete the procedure or procedures.
Our Calming Solutions
We have three very different options for our patients in need of care. The most common is laughing gas, or nitrous oxide, which is administered through a mask over the nose. The gas offers a mild calming effect that wears off almost immediately once the procedure ends. You remain conscious and able to respond to the dentist even if you have no memory of the treatment. People receiving laughing gas can often drive themselves home or back to work following treatment. For those in need of a more substantial calming effect, we may prescribe oral conscious sedation. We administer the medication via a liquid or pill that is taken in the morning before you arrive, and possibly the night before as well. Patients enter a much deeper stage of relaxation, while remaining conscious and again having little to no memory of the procedure. The effects will take time to wear off, so a friend or family member may need to bring you home. Finally, the most substantial option is IV sedation. We administer the calming agent directly into the bloodstream via an IV drip. You enter an unconscious state, with the sedation administered by a trained anesthesiologist. Again, a friend or family member will need to bring you home and you should avoid driving or operating heavy machinery for 24 hours. If you have any questions about these options, or if you think they can help you or a family member, then please contact our team today.
Schedule Your Next Visit Today
Don't let fear of the dentist keep you from obtaining a healthy and beautiful smile. For more information on our calming solutions, then schedule a consultation by calling Modern Smile in North Hollywood, CA, today at 818-763-9353. We also proudly serve patients who live in Burbank, Toluca Lake, and all surrounding communities.