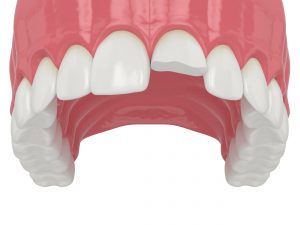 When a tooth becomes chipped or cracked, treatment is crucial for preventing the onset of cavities, infection, or even the loss of the tooth. In today's blog, your North Hollywood, CA, dentist talks about how we repair teeth and handle common dental emergencies. If you injure a tooth, remember that we offer repair in a clean and safe environment.
Chipped and Cracked Teeth
Our teeth are coated in a very thin but incredibly strong layer of enamel, the hardest substance in the human body. The outer enamel actually protects the more sensitive inner layers of dentin from bacteria. However, when our teeth are injured and cracks or chips appear, this could expose the inner dentin to harmful bacteria, leading to cavities and unless addressed in a timely manner, infection as well. People often experience serious aches and sensitivity until the damage and resulting decay is addressed.
Responding
When you chip a tooth, or if you sustain an injury and no damage is visible, be sure to rinse your mouth with warm water. Even if there is no visible damage, a fracture could still be present. Take a pain reliever and employ a piece of cloth or gauze to control bleeding. If you want to reduce swelling, place a cold compress or ice pack against the side of your face. Contact our team and we will set aside a time to address your issue quickly. Remember, we always follow safety protocols to safeguard our patients' health, and that includes regularly cleaning and disinfecting surfaces throughout the day, such as the waiting room area, bathrooms, door handles, tools, and more.
Treatment Options
For most minor chips, we can repair the teeth in a single visit with dental bonding. Using a metal-free composite resin that can be shaded to match the color of the teeth, this material is used to not only repair minor damage, but mask teeth and address other cosmetic issues. For more substantial damage or should a tooth be cracked, we could create and place a custom-made crown that fits over the tooth and prevents oral health complications and further damage. If you have any questions about our approach to tooth repair, then please contact our team today. Don't let serious concerns cause problems for your long-term oral health and beauty.
Do You Have Questions About Restoring Smiles?
Treatment could help prevent minor damage from causing serious complications, such as cavities, infections, or even tooth loss. For more information on our how we repair injured teeth, often in one visit, schedule a consultation by calling Modern Smiles in North Hollywood, CA, today at 818-763-9353. We also proudly serve patients who live in Burbank, Toluca Lake, and all surrounding communities.