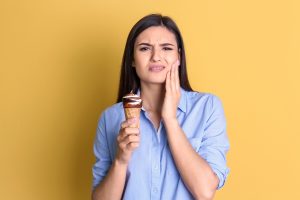 If you begin to experience regular sensitivity in your teeth, then be sure to let your North Hollywood, CA, dentist know! While some cases could be related to minor issues, or pass after a few hours, persistent aches could mean the presence of decay or other issues that require attention. In today's blog, we're going to talk about the possible causes of tooth sensitivity!
What Causes Tooth Sensitivity?
For some, sinus infections and allergy issues could lead to aches in the teeth. Changes in elevation also impact smile comfort. However, these issues are short lived and so the aches will simply pass after a few hours. But! Should you have pain or sensitivity that lasts more than 48 hours, you should see your dentist for treatment. Our tooth enamel, a protective layer coating the teeth, prevents bacteria from reaching the more sensitive inner layers of dentin. However, should injury or poor oral hygiene weaken the enamel, causing erosion, then bacteria could reach the dentin and the patient may experience pain in their teeth.
Cavities and Infection
A dental cavity grows and spreads over time. Without treatment, the bacteria could eventually reach the pulp, a bundle of living tissues at the center of the tooth. The pulp keeps your tooth alive and healthy, but when bacteria reaches it, an infection begins. Discomfort increases, as does the risk of losing the tooth. Aside from cavities and infection, sensitivity in the teeth could also be linked to teeth grinding. When we grind our teeth or clench them, we place pressure that could begin to wear down enamel or even crack and chip a tooth. Again, the dentin is exposed and discomfort may arise, as well as serious oral health concerns.
Fillings and More
If you have persistent pain in one or more teeth, please let us know. We will perform a thorough examination to identify the cause of the discomfort. If we discover a cavity, we may place a filling. Made from a lifelike composite resin, the restoration treats a cavity in one visit. A root canal can restore an infected tooth and if you grind your teeth, we may provide a custom-made oral appliance to prevent further damage and reposition the jaw to stop future grinding episodes. If you have any questions, then please contact our office today!
Do Your Teeth Ache?
If you begin to experience pain in or around your tooth, be sure to let us know so we can offer treatment. For more information on treating tooth decay and other common oral health concerns, then schedule a consultation by calling Modern Smile in North Hollywood, CA, today at 818-763-9353. We also proudly serve patients who live in Burbank, Toluca Lake, and all surrounding communities.