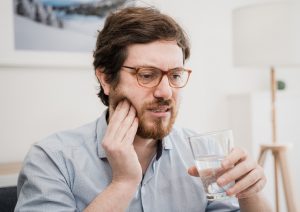 When it comes to a toothache, it can seem like the best indication of how serious of a problem it is involves how much the tooth hurts. If it's only a minor case of sensitivity, or if the discomfort ebbs and flows without getting too severe, then it might not seem like much of a threat. However, it probably is, and whatever is causing it could do more extensive damage to your oral health than you realize by the time it does get more severe. Today, we examine why a toothache is always something to worry about, and why the best thing you can do for it is to have your dentist thoroughly examine your teeth to diagnose and treat it.
There's a cause for it, even if it's minor
If a toothache isn't that severe, then it might not concern you to know exactly what's causing it. The reason behind it might not seem important until the pain itself is obviously a problem, and by that point, the threat and damage to your oral health can be severe. For example, a minor case of tooth sensitivity could indicate the formation of a cavity in its structure, or the expose of your teeth roots due to gum disease. It could also indicate unseen damage to your tooth, which can also grow worse along with the pain the longer it's left untreated.
Why it's hard to diagnose on your own
Because of the many different potential reasons for a tooth to start hurting, it's nearly impossible to accurately diagnose the cause of yours if that cause isn't obvious (such as damage from accidental trauma). Determining the cause of your toothache is the first and most important step to treating it, and to mitigating the threat that it indicates. Because of this, it's important to schedule a visit with your dentist as soon as possible if you feel any level of sensitivity in one or more of your teeth.
How to find real relief from it
After your dentist accurately diagnoses the cause of your toothache, you can work together to find the appropriate solution for alleviating it. This could require one of several different types of dental treatment, depending on the cause, such as filling a cavity or repairing damage to your tooth structure. The sooner you address the cause of your toothache and restore your tooth and oral tissues, if necessary, the sooner you can find lasting relief and protect your long-term oral health from it.
Learn how to treat your toothache
When you have a toothache, its seriousness isn't just about how much it hurts, but also the reason why it hurts, and the threat that it can pose to your oral health. To learn more, schedule a consultation by calling Modern Smile in North Hollywood, CA, today at 818-763-9353. We also proudly serve patients who live in Burbank, Toluca Lake, and all surrounding communities.