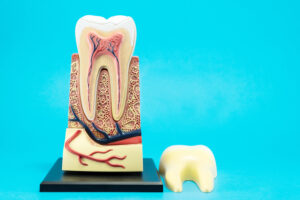 Your smile is constantly on the defensive against oral bacteria, germs, structural damage, and so much more. While a thorough preventive dental routine can provide a strong foundation for protection, there are some circumstances that are immune to preventive measures. Indeed, infection may even arise and settle in without your awareness, and before you know it, you are dealing with a major complication on your hands. In today's blog, your North Hollywood, CA dentist explains how tooth decay spreads and why your level of damage may warrant the need for a root canal.
Infection That Has Spread to Your Roots
It goes without saying that tooth decay is among the most common oral health concerns affecting people. As a matter of fact, millions of Americans report experiencing dental decay in some form or another every year, and even more are not even aware there is an issue, to begin with. Indeed, just because it is a common phenomenon, that does not mean it should go by untreated.
You see, oral bacteria are present in every single smile, and it is virtually impossible to rid your mouth of every one of them. What's more? These microorganisms attempt to nestle in the hard-to-clean recesses of the mouth, where they can thrive by feeding off of food particles from meals we have consumed.
Certain food items – particularly, sugar – cause oral bacteria to produce a destructive acid, which serves as a primary agent in dental erosion. Thus, a small hole in a tooth is born, also known as a cavity. Keep in mind that your troubles do not stop there, however, and the infection will only worsen without care. Contact our team today to learn more about the process:
Functional Complications that Arise
When your oral structures become infected, they structurally weaken and decline in strength. After some time, your tooth will become sensitive to the touch. This phenomenon makes performing routine tasks such as biting and chewing much more of a chore than they need to be.
Indeed, the important thing to know about decay is that, without restorative treatment, it will not stop until it has compromised an entire tooth. To learn more about this process and what your treatment options may be, give our team a call today.
A Threat to Other Structures
Dental infection does not stop on its own, but specialized treatment exists to circumvent the bacterial spread. In order to ensure your neighboring teeth are protected, our team may recommend a root canal procedure to clear your structure of any infection and reinforce your grin.
Learn More Today
Contact Modern Smiles in North Hollywood, CA by calling 818-763-9353 to schedule your next appointment with our team today and learn more about the need for timely restorative dentistry.