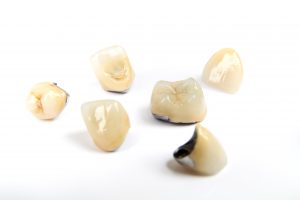 You're smile encounters a variety of wear and tear over the years. Indeed, damage can vary from a minor chip or stain to an extremely compromised tooth, and it is for this reason that we practice preventive dentistry. Still, sometimes these factors are out of our control, and additional treatment is needed to restore our smile's health. In today's blog, your North Hollywood, CA dentist explores the way dental crowns offer versatility when it comes to caring for your teeth, and how they can provide a lifelike finish.
A Variety of Concerns
It goes without saying that your smile endures a significant amount of wear and tear over the years. After all, nearly everything negatively impacts your oral health. Indeed, from minor chips and cracks to major infections and tooth loss, there is hardly anything your smile is safe from. It is for this reason as well that your dentist recommends practicing a well-rounded preventive routine.
Even still, oral bacteria and infection may have different A different idea, and before long, you could have a very serious infection on your hands. Fortunately, this is where restorative dentistry comes in to help.
Dental restorations are designed to mitigate the damage endured after dental decay and other concerns have begun to wreak havoc on your grin. What's more? These practices can be implemented out a variety of different stages, which means you can enjoy a restored smile if you act with efficiency. To learn more about this process and what your options may be, contact our office today.
Natural-Looking Solutions
When dealing with infection or damage caused by oral bacteria, one of the more versatile options consist of dental crowns. Dental crowns are designed to fit snugly on top of a tooth and serve a variety of purposes. For example, if you have to receive a root canal procedure to get rid of decaying material within your roots, a dental crown can be used to protect your tooth while it heals.
Another example is when a tooth becomes infected and you have to remove decay from the outside of it. To eliminate any chance of spreading infection, a Dental crown can be placed on top of the identified structure to ensure the health of your other teeth. For more information about this process, please contact our team today.
Custom-Fitting Your Needs
In the past, traditional dental crowns were constructed out of a metal material to ensure that your smile was protected. While these solutions are still in use today, advances in dental technology have made it possible to address your dental concern in a more discrete manner. Indeed, utilizing materials such as dental porcelain can provide a lifelike finish that does not detract from your smile's overall appearance.
Learn More Today
Contact Modern Smiles in North Hollywood, CA at 818-763-9353 to schedule your next appointment with our office, or learn more about the benefits of restorative dental crowns today.