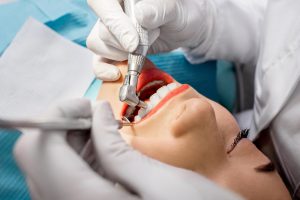 The key to maintaining a healthy smile is regular, preventative care. Of course, you know the importance of brushing twice a day and flossing daily, but scheduling exams and cleanings twice a year is equally crucial. Not only can they provide deeper, more effective cleaning than you can get from brushing at home, but they can also help catch any burgeoning issues before they can become larger — and more costly — down the road. In today's blog, your North Hollywood, CA dentist discusses the benefits of regular checkups and how preventative care is essential to your oral health.
Why Do You Need A Professional Cleaning?
Brushing and flossing at home is important — they can limit the build-up of plaque. However, plaque is always going to be there, so you will need a professional cleaning to actually get rid of what's accumulated. If plaque builds up enough, it calcifies and turns into tartar, which can lead to severe tooth decay and gum disease — like gingivitis. Again, brushing can help but a cleaning is still required. When you come in, a hygienist will use professional tools to remove any build-up, giving you a clean slate and a happy smile. You will leave with your mouth feeling fresh, and you'll rest easy knowing that you are free from an abundance of detrimental bacteria. Your hygenist can also recommend more effective brushing techniques and other tips in general.  After you this procedure, your dentist will conduct an exam to check on the overall health of your mouth.
Why Do You Need A Checkup?
A dental exam is the pinnacle of preventative care. It allows your dentist to thoroughly inspect your teeth and gums. From there, they can recommend any possible treatments and services that would benefit your mouth. During an exam, your dentist will look for cavities and signs of gum disease. If any are found, they may recommend fillings or a periodontal cleaning. They may also utilize the latest technology and techniques to screen for oral cancer, ulcers, lesions, and other abnormalities. Moreover, an exam is a great time to ask your dentist about anything that might be bothering you and your mouth. While sitting through an exam might not sound like a ton of fun, it is much better than having to deal with any larger issues that could have been prevented if they had been caught earlier. 
Contact Us To Learn More About Exams And Cleanings
If it has been over six months since your last dentist appointment, don't hesitate and contact Modern Smiles in North Hollywood, CA by calling 818-763-9353. You can also visit our office at 10545 Victory Blvd. North Hollywood, CA 91606. We look forward to hearing from you and helping you maintain a healthy, happy smile.