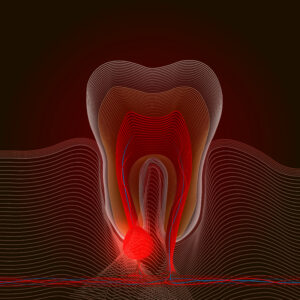 It goes without saying that among the many bacteria-related dental concerns, tooth decay is among the most common. As a matter of fact, decay affects millions of people in a variety of ways every year. What's more? Many people are currently being affected by tooth decay without even knowing it, as the infection occurs on a microscopic level and signs or symptoms do not develop until later. While fillings and crowns can be used to address many stages of decay, your dentist may recommend something more extensive in order to save a tooth. In today's blog, your North Hollywood, CA dentist discusses the ways that root canal therapy can benefit your smile.
Decay Will Stop at Nothing
As we mentioned previously, dental decay is the most common of the bacterial oral health concerns. It begins when hyperactive oral bacteria nestle in the hard-to-clean areas of the mouth such as in-between teeth, around the back molars, and near the gum line. Here, they are able to feed off of the particles that get stuck in your teeth after consuming food.
When oral bacteria feed off of sugars, it causes them to produce a destructive acid that aids in the decay process. Over time, this acid creates a small hole into the tooth known as a cavity, and a cavity serves as a tunnel for the bacteria to make their way into the inner portion of your tooth.
The problem with dental decay is not necessarily that it causes cavities, but that it is an infection that will not stop spreading on its own. In fact, unlike an upset stomach or headache, a toothache will only worsen with time. To learn more about this process and how our team can help, give us a call today.
An Impact on Oral Function
When the infection has worked its way into the inner portion of your teeth, it will begin to cause damage to your sensitive nerves. This is because the nerves are housed in the roots of a tooth, and with a direct passage to the roots, there is nothing standing in the way of decay. As your nerves receive damage, you will experience a host of signs and symptoms such as sensitivity, discomfort, and even pain. Contact our team to schedule your next appointment.
What to Expect from Treatment
To address this specific host of concerns, your dentist might recommend endodontic treatment in the form of root canal therapy. This process has your dentist remove the inner pulp contained in the roots in order to remove the infection, then filling the hollow root canals with dental material in order to provide structural support.
Schedule Your Appointment Today
To learn more about your treatment options for various stages of tooth decay, contact Modern Smiles in North Hollywood, CA by calling 818-763-9353 and schedule your next appointment with our team today.