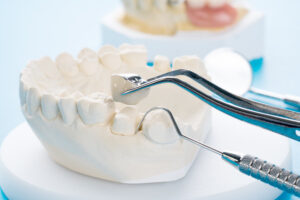 In our previous blog, we took a look at the way tooth decay develops and affects a person's smile in the early stages. Indeed, decay is among the most common of oral bacterial concerns, and affects millions of people every year. Though it may not be the most frightening issues initially, it can quickly get out of hand and even cost you your gorgeous smile's health. Still, sometimes a filling will not suffice for treatment of decay, in which case other avenues may be pursued. In today's blog, your North Hollywood, CA dentist takes a look at the many benefits of crown restorations and how they can be used to address different levels of concerns.
Protection from Progressing Infection
It goes without saying that our smiles are subject to the wear and tear of various oral health concerns. While you may be doing everything in your power to keep your smile healthy and happy, all it takes is one instance of falling short in your preventive dental routine for oral bacteria and infection to settle in.
Taking a look specifically at tooth decay, we are aware that bacteria lurk in the hard-to-clean areas of the mouth and produce acids that gradually wear down your protective layer of enamel. What's more? The infection begins to carve into the structure itself, working deeper in a tooth until it has compromised it completely. Because of this, it is important to seek treatment sooner than later.
Though fillings are often the first line of defense, oftentimes a smile requires a bit more support to ensure a healthy recovery. This is where dental crowns come in to help protect against the spread of a progressing infection. To learn more about this process, give our team a call today.
Reinforcing Your Tooth's Structure
A dental crown consists of a hollow cap that is specifically designed to fit snugly over a specified tooth. Not only does it keep oral bacteria from entering, but it helps keep the infection from spreading toward other neighboring teeth.
In addition to protection from infection, a dental crown can help reinforce your tooth's strength while it heals. You see, each tooth supports a specific amount of bite pressure, and this process can become complicated when a tooth is infected and you are experiencing pain. Contact our team to learn more.
Ensuring Proper Recovery
Finally, a crown can be used in conjunction with another restorative treatment in order to provide the most in terms of protection. For example, crowns are often used to cover a tooth following root canal treatment, thus allowing the structure to heal properly without issues caused by outside forces.
Learn More Today
Contact Modern Smiles in North Hollywood, CA by calling 818-763-9353 to learn more about the various benefits of dental crowns, and schedule your next appointment with our team today.