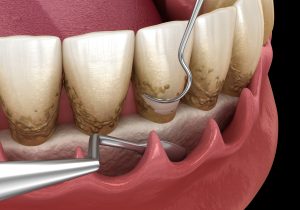 Ever since we were little, our parents and dentists have reminded us consistently to practice excellent preventive dental habits otherwise we would lose our teeth. As we grew older, we began to recognize the importance of brushing, but other aspects such as attending dental appointments or flossing may have taken a seat on the bench more than a time or two. Still, they are important factors that make up a major part of an effective routine. In today's blog, your North Hollywood, CA dentist discusses the way that flossing plays a role in periodontal care and how it can help avoid the effects of gum disease.
Removing Food Particles and Debris
When you utilize your teeth and other oral structures for functional purposes, there are a number of steps involved. First, your teeth help to bite and chew your food. At the same time, your tongue helps you taste what you are consuming, making the process more enjoyable. The point of this example is that there are many factors that contribute to your overall function.
When chewing your food, you have likely experienced a particle of it becoming lodged in-between your teeth. Without the help of floss, these particles may remain present for an unknown period of time. This becomes a problem as oral bacteria swarm to the site to feed off of said particles. From here, they will take refuge in the crevices present between the gums and teeth, and the rest is history.
Avoiding Gum Disease
Gum disease occurs when oral bacteria work their way below the surfaces of your tissues and cause plaque to develop on your teeth roots. While it may not seem like a major concern yet, it is only a matter of time.
When individuals endure periodontitis, they tend to experience a number of signs and symptoms indicating a complication is present. For example, you may endure inflamed or bleeding gums, loose structures, teeth separating from the tissues that house them, and even tooth loss. If you are experiencing any number of these concerns, please reach out to our team to learn your options today.
Additional Steps to Take
For those suffering from periodontal disease, a deep clean may be in order. This process involves our team carefully removing the bacteria-laden plaque and tartar deposits from the roots, then taking care to smooth the surfaces of your roots so that it is more difficult for bacteria to attach in the future. What's more, this process allows for your health to take the wheel once more and keep your grin in tip-top shape.
Schedule Your Appointment
For more information about the importance of periodontal care or to schedule your next appointment with our team, contact Modern Smiles in North Hollywood, CA by calling 818-763-9353 today.