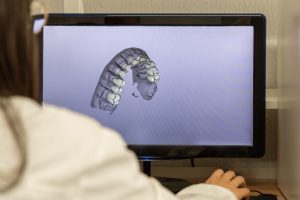 Preventive dentistry has long taken the lead on keeping your smile strong and healthy. Indeed, protection against the myriad of dental threats that are out there is necessary to maintaining a grin for life. For some, however, a number of different circumstances or situations can end up leading to the need to extract a tooth for safety. In cases like these, however, replacement is imperative to function. In today's blog, your North Hollywood, CA dentist takes a look at the need for dental implants, and how guided treatment increase chances of success.
The Importance of Function
Whether you are aware of it or not, your oral structures work together as a system to help you achieve daily tasks and activities. For instance, biting, chewing, and even enunciation are all made possible by the relationship between the gums, jaw, teeth, tongue, and lips.
When it comes to function, your teeth play a major role. The crown helps us to bite and chew, while the root creates a secure connection with the jaw in order to help your crowns absorb the pressure of your bite without falter. That being said, roots are very important to function.
When a structure is gone, however, there is no longer a root to stimulate the jaw, leading to degradation and diminished health as well as function. That is where dental implants come in to help, however, as their biocompatible posts act, in a way, like an artificial root. To learn more about this process, feel free to contact our office today.
Mapping Out Your Procedure
The important factor in successful implant treatment involves its overall placement. After all, if a post were placed sub-optimally or even slightly misaligned, it could lead to posts coming loose down the line. It could also lead to increased chances of infection, as it is more difficult to keep teeth clean when they jut out at different angles.
To aid in this process and help us ensure optimal placement, we can utilize computed tomography (CT) scanning. This process involves generating a 3D render of your smile through combination of several x-rays taken from different angles. This allows us to gain a better view and understanding of your needs so that we can ensure the best course for moving forward. For more information, reach out to our team today.
Highly-Precise Placement
Placement is key when it comes to your treatment, and we believe in taking the extra step to digitally map it out to ensure success. We recognize that everyone has different needs, and a one-size-fits-all approach simply will not cut it.
Learn More Today
Contact Modern Smiles in North Hollywood, CA by calling 818-763-9353 to learn more about the benefits of CT scanning in implant dentistry and schedule your appointment with our team today.