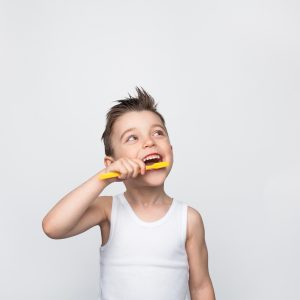 We know that many children have a high risk of developing tooth decay, which could impact the health and comfort of their smiles. In order to help families in North Hollywood, CA, enjoy a reduced risk of tooth decay, we may recommend preventive treatments. In today's blog, we're going to look at the benefits of both fluoride treatments and dental sealants.
Children and Tooth Decay
When children eat too many sugary foods and drinks, and don't brush and floss properly, this could allow bacteria to break down the stray bits of food particles, a process that leads to elevated oral acidity and plaque buildup accumulating on the surface of the teeth. A bacterial byproduct, plaque could eventually weaken and erode tooth enamel, leading to cavities as bacteria gains access to the more sensitive layers of tooth structure. Children may report pain in their teeth, and treatment will be necessary to avoid the onset of a dental infection. But what can be done to prevent the develop of cavities in the first place?
Fluoride Treatments
Fluoride is a naturally-occurring mineral, one that actually strengthens the outer enamel that protects your teeth. In fact, communities with fluoride in their water supply have been shown to have lower rates of tooth decay in children and adults alike. In order to protect little smiles, we can apply a special fluoride varnish to the teeth. The process takes a few minutes and the material cures quickly. This shores up your smile's natural defenses against cavities and lowers the risk of decay. We can re-apply in future checkup and cleaning visits as needed.
Dental Sealants
A dental sealant is an acrylic coating we place over the rear teeth. The coating prevents food from becoming stuck between teeth that are usually difficult for kids to reach and brush and floss properly. The sealants dry quickly and can stay in place for several years, wearing away naturally. Again, we can re-apply as needed.
In addition to fluoride treatments and dental sealants, you can also help your little one at home. Try to provide healthier snack and drink choices, such as fresh fruit, veggies, dairy products, and water. Make sure your child is brushing twice a day for two minutes and flossing nightly before going to bed. If you would like to learn more about our preventive treatment options, then contact our team today. We want to help protect smiles of all ages from tooth decay!
Schedule Your Child's Visit
We're here to help your kids enjoy healthy smiles. For more information on our approach to children's dentistry, schedule a consultation by calling Modern Smile in North Hollywood, CA, today at 818-763-9353. We also proudly serve patients who live in Burbank, Toluca Lake, and all surrounding communities.