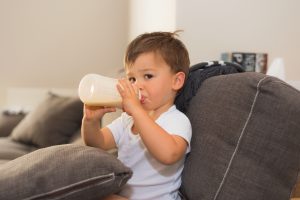 Just like you, kids need to take care of their smiles each day to protect their teeth and gums from tooth decay and gingivitis. In today's blog, we're going to look at the causes of poor oral health and recommend steps for North Hollywood, CA, parents to protect their children from cavities and other issues. Let's talk about what kids can to enjoy optimal oral health.
Routine Visits
When your child's first tooth arrives, he or she will need to have an exam. As children grow, routine six month visits will be crucial for enabling the dentist to examine the teeth for signs of decay or developing misalignment. We then have the chance to treat these issues in the early stages, before infection or the risk of premature tooth loss occurs. A cleaning helps children avoid decay by removing all plaque from the teeth. Removing plaque also protects the gums from inflammation, safeguarding older kids and teens against gingivitis. For many, regular visits also help instill good dental habits while reducing dental anxiety, as children have a chance to become accustomed to visiting the dentist.
Quality Homecare
At home, your little ones need to brush twice daily and floss before bed. For younger children, you may need to assist or monitor them. Brushing should take no less than two minutes to ensure proper cleaning. You can also help by making sure your children drink more water. Tap water contains fluoride, which helps protect them from cavities. In addition, cutting back on sugary foods and drinks limits the chances of poor oral health. To make the process more fun, you can purchase toothbrushes with their favorite characters on them, or find a timer or app to help them brush for the recommended amount of time.
Preventive Treatments
We also have preventive treatments to help safeguard little smiles against tooth decay. With fluoride treatments, we apply a special varnish to the teeth that strengthens the outer tooth enamel. We also have dental sealants, which involve placing a special plastic coating on the hard-to-reach rear teeth, preventing food from becoming stuck between them. Both options help protect smiles from cavities and take only minutes to apply. If you have any questions about our preventive treatments, or if you would like to schedule a visit for your little one, then contact our team today.
Ready for a Preventive Treatment?
We have treatments to help your little ones enjoy optimal oral health and attractive smiles for many years to come. For more information on protecting young smiles from cavities and our preventive treatment options, schedule a consultation by calling Modern Smile in North Hollywood, CA, today at 818-763-9353. We also proudly serve patients who live in Burbank, Toluca Lake, and all surrounding communities.