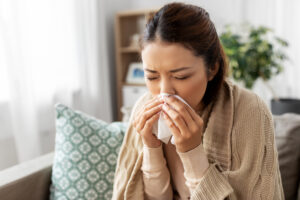 Your oral health is influenced by a variety of different factors, and unfortunately, there are significantly fewer natural defenses in place to protect your smile from harm. Because of this, it is important you take care to practice effective dental prevention at home in the form of brushing, flossing, and rinsing with mouthwash. Even still, it becomes difficult to thoroughly provide care in times of sickness, and certain symptoms can actually prove to be a detriment. In today's blog, your North Hollywood, CA dentist takes a look at some tips to keep in mind when ill to help prioritize your oral health.
The Dangers of Stomach Acid
It goes without saying that, if presented with the choice, nobody would choose to get sick. Not only is it a massive inconvenience for you in terms of your responsibilities like family and work, but doing any task, regardless of how large or small, is always much more of a chore than it has to be. Unfortunately, we do not have the ability to make this choice, and millions of individuals become ill every year.
One practice that may slip your mind in particular while ill is that of dental prevention. What's more? Different symptoms may negatively influence your oral health without you knowing it is even a threat! In cases such as these, it is important to take additional steps to ensure your health is protected.
A common symptom of illness involves vomiting. What you might not know, however, is that the stomach acid contained in bile actually contributes to enamel erosion. In order to avoid significant enamel damage, a good piece of advice is to swish and spit after vomiting. For more information about this process, give our team a call today.
Choosing Appropriate Treatment Options
In addition to an upset stomach, a cough is also a common experience everyone endures when ill. Your primary care physician or pediatrician may prescribe cough syrup to soothe the sore throat, but it is important to be cautious of the ingredients.
You see, many cough syrups contain unnecessary amounts of sugar to make the syrup taste better, but these sugars are exactly what contribute to dental infection such as tooth decay. Coupled with a sub-par routine, you become susceptible to infections and other complications. Give our team a call today to learn more.
Drink A Lot of Water!
Finally, the biggest piece of advice our team can offer is to drink a lot of water. Many individuals become dehydrated while ill, which not only influences your oral health levels, but your physical health as well.
Schedule Your Appointment
Contact Modern Smiles in North Hollywood, CA by calling 818-763-9353 to learn more about the steps you can take to care for your smile while ill, and schedule your next appointment with our team today.