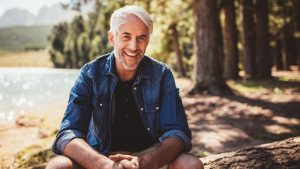 Millions of Americans currently suffer from periodontal disease, an issue that causes serious complications for your smile. In order to avoid the risks associated with gum disease, such as adult tooth loss, patients in North Hollywood, CA, need to protect their smiles. We're looking at how a few preventive steps each day can help safeguard your oral health.
How Does Gum Disease Start?
First, people develop gingivitis. Also known as gum inflammation, gingivitis occurs as a result poor oral hygiene, plaque and tartar buildup, genetic predisposition to periodontal problems, smoking and tobacco use, and certain prolonged illnesses and medications. Without treatment to reverse the issue, inflammation eventually causes the gums to pull from the teeth and form deep pockets. Bacteria enter these pockets and gum disease develops. Once you have gum disease, there is no cure. However, routine care helps manage the disease and prevents serious complications.
Will the Disease Impact Overall Health?
First, you will begin to notice the common symptoms, such as soreness in the gums, redness, or bleeding when you brush and floss. Later, the gums may recede or become swollen. In the advanced stage, the disease has been linked with adult tooth loss, halitosis, heart disease, diabetes, Alzheimer's Disease, and rheumatoid arthritis. However, by addressing the issue early and taking steps to manage it and improve oral health, you reduce the risk of these severe complications. If you notice soreness or bleeding, please let us know right away so we can perform a diagnosis and discuss treatment and management options.
Preventing Periodontal Problems
When you brush and floss your teeth daily, you help reduce the severity of plaque buildup. Plaque inflames the gum tissue, leading to a greater risk of the disease. You should also see us every six months for a checkup and cleaning. During the checkup, we carefully examine the gums for signs of trouble and can recommend treatment to reverse gingivitis or manage the disease in the early stages. A cleaning also completely removes plaque buildup, preventing inflammation. If you have high risk factors, then we may suggest a visit every three to four months. If you smoke or use tobacco products, we also urge you to quit immediately. If you have any questions about preventing periodontal problem and protecting your smiles health and stability, then contact our team today.
Does Your Smile Need a Cleaning?
With a preventive approach to dentistry, you can help safeguard your smile against periodontal concerns and other oral health issues. For more information on preventing gum disease and treating your oral health problems, schedule a consultation by calling Modern Smile in North Hollywood, CA, today at 818-763-9353. We also proudly serve patients who live in Burbank, Toluca Lake, and all surrounding communities.