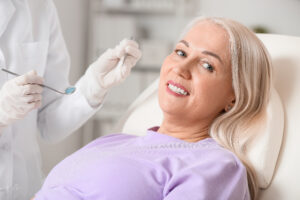 Even if you brush your teeth and floss regularly, it is still incredibly important to visit the dentist regularly. While practicing at-home care is an essential part of preventative care, receiving professional assistance ensures that bigger problems are less likely to occur. When you go to the dentist for an exam and cleaning, the harder-to-reach places will be addressed and any plaque and tartar buildup can be removed with specialized tools. In today's blog, your North Hollywood, CA dentist talks about the benefits of regular visits to the dentist and what to expect when you come in.
A Professional Cleaning Goes A Long Way
When you visit us for a checkup every six months, your appointment will begin with a professional cleaning. During this time, a highly-skilled hygienist will thoroughly clean your smile. They have specialized tools at their disposal, which allows them to clean harder-to-reach places and remove built-up tartar and plaque. While brushing at home can minimize this build-up, it will still develop over time, so a professional cleaning is one of the only ways to remove and address it. Not only will your smile be healthier, but it will also feel particularly fresh, and you'll know you have a clean slate of oral health that you can continue maintaining with your at-home brushing and flossing practices.
A Thorough Examination
After the cleaning portion of your visit, a dentist will thoroughly inspect your teeth. During this time, they will see if there are any issues developing in your smile. Not only can we look at the teeth themselves, but we can also utilize x-rays and other technologies to see what is going on beneath your gums and deeper into your teeth. By getting this close look, we can suggest treatments to address any potential issues before they develop into more serious problems. The sooner we catch something, the easier the treatment will be, saving you time and money.
In addition to an examination, we can also conduct an oral cancer screening. Even if you are young and in good health, oral cancer can still affect you, so we are diligent about inspecting smiles for common signs of the disease. When you come in for your visit, please let us know if you have noticed any abnormalities like bleeding, lesions, or anything else that may be surprising you. If we do find anything out of the ordinary, we will work with you to address whatever it is affecting you. 
Contact Us To Schedule An Appointment
If it has been more than six months since your last appointment, we invite and encourage you to contact us today. To schedule an appointment or ask any questions, contact Modern Smiles in North Hollywood, CA by calling 818-763-9353. We hope to see you soon!