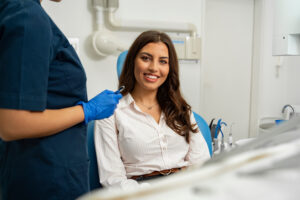 Brushing your teeth is one of the processes you perform every day, and sometimes, it can feel as though your brain is on auto-pilot when you do. After all, we have been doing this twice a day every day for our entire lives, so it is only natural we mentally check out during this process. With consistent preventive care, you experience a higher chance of not having to have structures replaced with implants as time goes on. In today's blog, your North Hollywood, CA dentist reiterates the importance of staying on top of routine dental prevention and shares what you can expect during your in-office checkup.
A Necessary Part of Preventive Care
From a young age, your parents or guardians likely emphasized the need to brush your teeth. While at the time you might have thought of this as nothing more than a ploy by adults to get you to do something you did not want to do, in all actuality, it laid the foundation for excellent oral health.
You see, most dentists recommend that at-home prevention should consist of brushing your teeth twice daily, flossing between meals or at least once daily, and of course, swishing and spitting using an antiseptic mouthwash. When practiced regularly, these steps can elevate your oral health experience.
Though you may be taking care to practice all of the steps mentioned above, keep in mind that no routine is considered complete without attending your regularly-scheduled checkups and cleanings. In fact, these visits are considered essential for staying on top of your health. To learn more about this process and how our team can help, give us a call today.
What to Expect from Your Examination
Your dental checkup is considered to be an essential part of your overall preventive routine, as it is the only real opportunity to have a trained professional closely examine your structures. Not only does this allow our team to identify concerns that one might not be able to alone, but it allows to work together to create a treatment plan ideal for your situation.
During your examination, we will take care to look at every structure contained in the oral cavity for signs of damage, infection, trauma, and more. Contact our team to learn more today.
Cleaning to Provide Better Health
Following your professional examination is your detailed cleaning. Though you brush and floss regularly, sometimes oral bacteria can work their way into particularly difficult-to-clean areas where they form plaque and tartar. A professional cleaning allows our team to remove these difficult deposits and enhance your chances at maintaining a healthy grin for life.
Schedule your Next Appointment
Contact Modern Smiles in North Hollywood, CA by calling 818-763-9353 to schedule your next appointment with our office and learn about the need for consistent dental checkups.