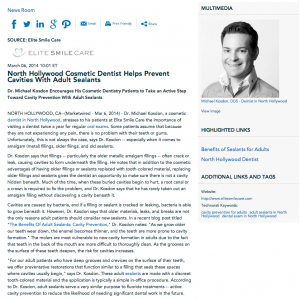 Dr. Kasra Tajik encourages his cosmetic dentistry patients to take an active step toward cavity prevention with adult sealants.
North Hollywood, CA – Dr. Kasra Tajik, a cosmetic dentist in North Hollywood, stresses to his patients at Modern Smiels the importance of visiting a dentist twice a year for regular oral exams. Some patients assume that because they are not experiencing any pain, there is no problem with their teeth or gums. Unfortunately, this is not always the case, says Dr. Tajik—especially when it comes to amalgam (metal) fillings, older filings, and old sealants.
Dr. Tajik says that fillings – particularly the older metallic amalgam fillings – often crack or leak, causing cavities to form underneath the filling. He notes that in addition to the cosmetic advantages of having older fillings or sealants replaced with tooth-colored material, replacing older fillings and sealants gives the dentist an opportunity to make sure there is not a cavity hidden beneath. Much of the time, when these buried cavities begin to hurt, a root canal or a crown is required to fix the problem, and Dr. Tajik says that he has rarely taken out an amalgam filling without discovering a cavity beneath it.
Cavities are caused by bacteria, and if a filling or sealant is cracked or leaking, bacteria is able to grow beneath it. However, Dr. Tajik says that older materials, leaks, and breaks are not the only reasons adult patients should consider new sealants. In a recent blog post titled "The Benefits Of Adult Sealants: Cavity Prevention," Dr. Tajik notes: "As we grow older our teeth wear down, the enamel becomes thinner, and the teeth are more prone to cavity formation." The molars are most vulnerable to new cavity formation in adults due to the fact that teeth in the back of the mouth are more difficult to thoroughly clean. As the grooves on the surface of these teeth deepen, the risk for cavities increases.
"For our adult patients who have deep grooves and crevices on the surface of their teeth, we offer preventative restorations that function similar to a filling that seals these spaces where cavities usually begin," says Dr. Tajik. These adult sealants are made with a discreet tooth-colored material and the application is typically a simple in-office procedure. According to Dr. Tajik, adult sealants serve a very similar purpose to fluoride treatments – active cavity prevention to reduce the likelihood of needing significant dental work in the future.
About Kasra Tajik, DDS
Dr. Kasra Tajik is a graduate of the USC School of Dentistry and the Las Vegas Institute for Advanced Dental Studies. He practices cosmetic dentistry in North Hollywood and New York City and is the inventor of the Smile Facelift®. In addition, Dr. Tajik serves as an active member of the American Dental Association and the American Academy of Cosmetic Dentistry. He is available for interview upon request.

To learn more about Dr. Tajik and his North Hollywood practice, please visit elitesmilecare.com or facebook.com/pages/Elite-Smile-Care/177720305672052.
Contact:
Kasra Tajik, DDS
10545 Victory Blvd.
North Hollywood, CA 91606
(818) 945-0711
Rosemont Media
tom@rosemontmedia.com
(858) 200-0044
www.rosemontmedia.com