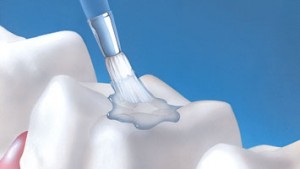 Even though cavities are most commonly associated with children and teenagers, people are vulnerable to cavities regardless of their age. Some adults, due to a combination of good oral hygiene and genetics, may have gone through the first part of adulthood without a cavity—and these people are fortunate. However, as we grow older, our teeth wear down, the enamel becomes thinner, and the teeth are more prone to cavity formation. Molars pose the greatest risk for cavities because the back teeth are more difficult to brush and keep clean.
For our adult patients who have deep grooves and crevices on the surface of their teeth, we offer preventative restorations that function similar to fillings by sealing the spaces where cavities typically begin. The material we use for these adult sealants is tooth-colored, very discreet, and patients rarely need an anesthetic during the application process. In the same way that fluoride treatments can help prevent cavities, adult sealants serve as cavity prevention for the molars as our teeth weaken with age.
To learn more about Dr. Michael Kosdon and Modern Smiles, please contact our office today.