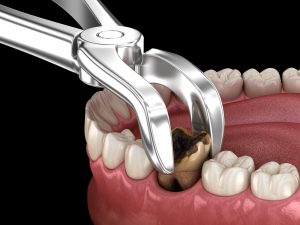 Tooth loss is often the last choice for many individuals, and saving your smile is a priority. While you may be taking steps to protect your smile at home, there are circumstances in which an oral structure can become infected and, if permitted to progress, ultimately beyond saving. At times it is important to recognize that your oral health is a top priority, and although it may seem counterintuitive, sometimes saving your smile means extracting a tooth to do so. At Modern Smiles in North Hollywood, California, our goal is to preserve your grin and help you protect it from harm, and this means recognizing that there are some circumstances in which extracting it is the best option.
Protection from Disease
When oral bacteria are introduced to your teeth, they begin to tear down and eat away at the tooth's structure. This can be done anywhere on the surface, from the top of the crown to the sides between teeth and near the bottom near the gum line. If allowed to progress, these organisms can cause deterioration to a degree that there is not enough healthy structure left and the tooth begins to fail as it is suffering from decay. When it has endured so much deterioration such as this, it may be time to consider an extraction.
When Your Restoration Fails
Upon combatting a cavity, most dental professionals will suggest a filling or other restoration in order to rebuild its strength. After cleaning the area so as to remove harmful bacteria, a composite resin is placed in the hole and hardened to create a secure barrier from reinfection. In this instance, however, if the area has progressed to a certain point, the deterioration could continue despite the filling, causing the restoration to fail, as is the case with a diseased oral structure.
When Leaving it Intact Affects Other Teeth
Not only can an oral structure be beyond saving, but the degree of damage can be so severe that it affects tissues and other surrounding structures, potentially causing harm to them as well. If it begins to impact your everyday routine and you are unable to properly speak, chew, or begin ensuring a great level of pain and swelling, you should contact your dentist immediately to learn your options and resolve any harm that is threatening your grin.
Learn More About Tooth Extractions and Restorations
Tooth loss is a serious concern, and while it is not anyone's first choice, sometimes extracting an oral structure may be necessary to save your smile and preserve your oral health. Contact your North Hollywood, California dentist at Modern Smiles today by calling 818-763-9353 for more information or to schedule an appointment with our team. Acting sooner as opposed to later could be the difference in saving your teeth.