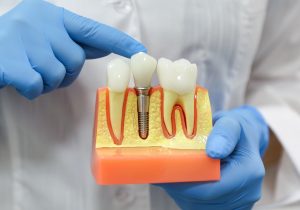 The point of replacing any natural teeth that you've lost is to restore your good oral health, your proper bite function, your smile's healthy appearance, and more. For many people, a conventional dental bridge or denture can accomplish many of these goals with highly lifelike results. However, conventional restorations are unable to fully restore the functions of your lost teeth roots, which play significant roles in each of the other aspects of your oral health. Today, we explore what dental implants can do for your smile by replacing the roots of your lost teeth, especially how they can preserve your good oral health in the long run.
What is a dental implant post?
Dental implants are different from conventional tooth replacement options in the fact that they're designed to replicate the roots of your lost teeth, rather than their visible crowns. A dental implant is a small, biocompatible post that mimics the shape of a tooth root. Once it's placed within your jawbone structure, it can perform like a healthy, natural tooth root, as well, supporting your replacement teeth with lifelike comfort and stability. Depending on how many teeth you've lost and the type of restoration you need to replace them, you may benefit from supporting your restoration on one or more dental implant posts.
The value in replacing a lost tooth root
The roots of your teeth are important for many different reasons, and they don't lose their importance once you've lost them. When present, your healthy natural teeth roots are responsible for supporting your teeth as well as for stimulating your jawbone structure. The loss of a tooth root means that the area of your jawbone where it rested will no longer receive this stimulation. In time, that can cause the bone structure to lose mas and density, which can only be prevented by replacing the lost tooth root and reestablishing stimulation in that area of your dental ridge.
How your smile benefits in the long run
When you replace one or more lost teeth roots with dental implants, some of the benefits are noticeable almost immediately. Your dental restoration will be more secure and rest more comfortably on your dental ridge, without the need for abutment teeth, clasps, or adhesives. In addition, you can bite and chew more foods with greater stability and confidence. Your smile's long-term health and integrity also benefit greatly from the stimulation that the dental implants provide, which help you better maintain your jawbone's mass and density.
Learn if dental implants can restore your smile
An appropriate number of dental implant posts may help boost the comfort, function, and stability of your custom-designed replacement teeth. To learn more, schedule a consultation by calling Modern Smile in North Hollywood, CA, today at 818-763-9353. We also proudly serve patients who live in Burbank, Toluca Lake, and all surrounding communities.